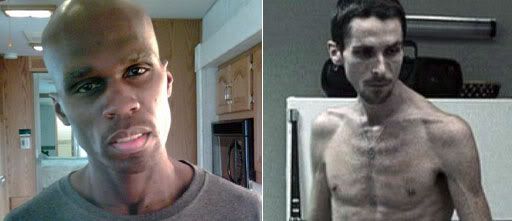 By now you must have seen the alarmingly freakish photos of Curtis "50 Cent" Jackson who radically transformed his body by losing 54 lbs for a role in the upcoming film, "Things Fall Apart," a picture he actually co-wrote with Brian A. Miller about a football player with cancer. Mario Van Peebles is directing and co-starring along with Ray Liotta.

Emaciated and looking like an extra from "The Road," or a sleep-deprived Christian Bale from "The Machinist," Cent apparently lost the weight by simply starving himself, subsisting off a liquid diet, and employing three-hour-a-day treadmill walks for nine weeks. The images have pretty much pervaded all forms of media from Us Weekly to The Washington Post.

So is 50 going for an Oscar? Or more importantly is the weight loss already all for naught? Jackson's last couple of vanity project films have pretty much gone straight to DVD and/or have had small off-the-radar releases that only his core audience has viewed (other than co-starring efforts in poor films like "Righteous Kill") and frankly, this sounds only marginally more high-profile then his straight-to-video directorial effort, "Before I Self Destruct."

So while the weight loss will get him noticed for now, don't be surprised if the picture comes and goes and you see it at the bottom of a B-movie Blockbuster shelf a year from now (if that brick and mortar still exists by then).

Jackson's career did start out auspiciously; Jim Sheridan made the puzzling decision to essentially redo, "8 Mile," only with 50 instead of Emimen. The picture, "Get Rich or Die Tryin'," was one of his least regarded pictures ever (and it made $46 million worldwide, but the budget was $40 without counting P&A costs). Jackson then appeared alongside Jessica Biel in the post-Iraq War film, "Home Of The Brave," which grossed a paltry $4,874 domestically.

All that said, we're kind of impressed that a guy with that much money — a lot of it from being a commercial shill for Glacéau, a Vitamin Water he co-founded and then was bought by Coca Cola — would go this far for a movie no one is likely to ever see, because really, when was the last time you saw a Mario Van Peebles film open wide, let alone, open at all.