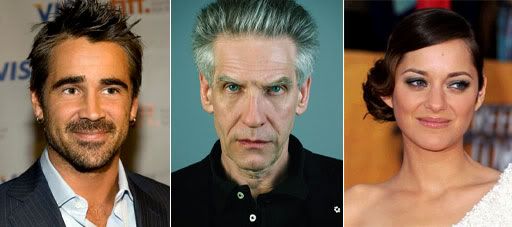 With David Cronenberg's "A Dangerous Method" set to shoot this month in Germany with Keira Knightley, Viggo Mortensen and Michael Fassbender, the director is already busy setting up his 2011.

Colin Farrell and Marion Cotillard have joined Cronenberg's adaptation of Don DeLillo's celebrated novel "Cosmopolis." The project, which Cronenberg first attached himself to last summer with an eye to shoot this year, follows 24 hours in the life of a newly married billionaire as he cheats on wife, is pursued by a stalker, get attacked by a protester and gradually loses his entire fortune over the course of a single day. Farrell is set to play the billionaire and Cotillard his wife in the adaptation penned by Cronenberg himself. Most of the action takes place is a limo as a presidential visit and various other events slow down the billionaire's progress through the city; we think it will be interesting to see how Cronenberg opens up the concept for the big screen.

But wait, what about "Eastern Promises 2" that was announced earlier this year? Well, there is still time for that happen. "Comopolis" is set for a March to May shoot next year, while "Eastern Promises 2" has been tentatively scheduled for "next winter." It is conceivable that is development moves quickly, Cronenberg could get both in the can, but more likely is that timetables have shifted and "Cosmopolis" is going first. We're heartened in this age of 3D eyeball fucking blockbusters, guys like Cronenberg are still able to line up high concept projects. We're definitely excited for this one.