Here's a first-look behind-the-scenes production still of Jessica Chastain in Terrence Malick's highly anticipated "The Tree Of Life."

The image shows Chastain with a crew member inside a '50s Texas home. We presume this is the family home she shares with her husband, played by Brad Pitt, and their son, in what is being described as a drama that ferries between a father in the 1950s (Pitt) and his son Jack (Sean Penn), now grown up decades later.

It's a cryptic logline but what we do know is that it'll center predominantly around the father-son relationship of the aforementioned two and a tragedy that befalls the family. Or as one synopsis goes, it's "the story of a family who must come to terms with a devastating loss. In doing so, they discover life's most important lessons of unselfish love and forgiveness."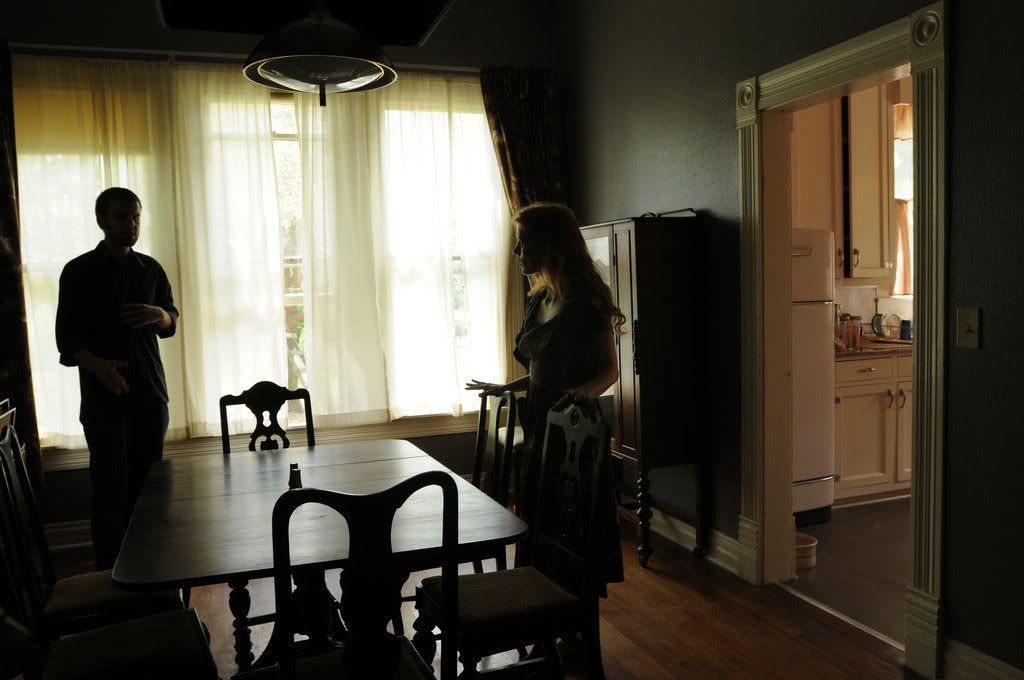 Just to confuse you a bit more, composer Alexandre Desplat added that the film is "a deep story about love, how you transmit love, through your family; from the parents to the children. And the evolution of mankind... since the creation," possibly hinting the inclusion of dinosaurs in either the feature itself or an IMAX companion documentary titled "The Voyage Of Time," which may or may not just be a codename for the FX-heavy sequences in "The Tree Of Life." Still with us?

There's been recent conjecture whether the film will be affected by the recent exit of Bob Berney from the newly-founded distribution company, Apparition. Co-founder and River Road director Bill Pohlad, though, seemingly denied any problems telling Le Monde that Malick's film "should be finished within weeks," that "it could be presented at the Venice Film Festival" as previously reported and "should be released in November [in the] United States" as originally planned. Pohlad also added that the film was pretty much 99% complete before Cannes, a two percent jump on last time we checked in mid-April.

He's definitely going out of his way to avoid using absolutes and with Malick that's always a wise option. Nevertheless, it does sound like the plan, for now, is: Venice in September (which probably means TIFF right after) and then theaters in November. At least, let's hope so.

Massive hat tip to "Graham from Minnesota" for the image.