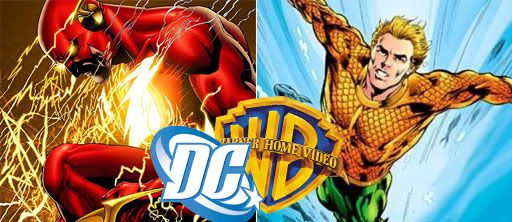 Tucked away at the bottom of the same article that announces the December 2011 release date for "Sherlock Holmes 2," is a small bit of info on some D.C. Comic book properties that have been kicking around in development for for a couple years now that has already excited comic book movie fans.

Not much is revelatory frankly, but some of it is slightly new and interesting. Warner Bros. chairman and CEO Barry Meyer told his shareholders during a presentation THR attended that the long-developing "Flash" is near a green light and that D.C. Comics hero "Aquaman" is also going into development.


The other major development is they hope to have the Christopher Nolan-mentored "Superman" film in theaters for December 2012 (they're gonna have to hurry that development as Nolan has the third "Batman" film coming out in June of that year, but with growing rights/legal issues at hand, they want to get it kick-started asap).

The rumors we've heard of late are that Greg Berlanti, who was said to be writing and directing, was off this project, which might be the reason why he was so cagey in recent interviews (does he read confident to you here?).

He may have been one of the three writers credited for penning "Green Lantern," but considering the trailer for "Knocked Up 2," sorry, "The Broken Hearts Club," he doesn't exactly strike us as the right man for the director's chair here. As a writer, sure, possibly. Warners have been talking about "The Flash" forever and ever (as recently as March of this year and it stalled back in 2009; Ryan Reynolds was once attached as well, but obviously now he's "Green Lantern.")

Meyer also notes that development on "Wonder Woman" and some "Mad Magazine" characters will also start soon, but they've been saying that about the Amazonian superheroine for years now. We think they should listen to Nicolas Winding Refn ("Bronson") who wants the gig. Also, it's pretty ironic that Joel Silver, who once was working the Wonder Woman reboot, didn't jive with Joss Whedon's take on the material -- which started in 2005 and he left in 2007-- and now he's Marvel's golden boy choice to direct "The Avengers."

"Aquaman" is real news, outside of the James Cameron/Vinny Chase fictional storyline on "Entourage," and good luck developing that one as you probably will need Cameron and "Avatar"-sized dollars to make a comic-book movie that should be at least 50 percent underwater (what a directing nightmare that would be unless they faked it with super expensive effects, hello WETA or Cameron's folks). Don't expect to see that one anytime soon.

But also, just in general don't get too excited. In the last few years, WB/D.C. has announced some development plans on other D.C. Comics properties every few months -- all the aforementioned heroes -- and not a lot has happened. We'd expect a "Flash" announcement sometime this summer, but won't be surprised if we don't hear much of anything else for another six months or so. Writers could get hired this year, but the development of all these projects could take years.