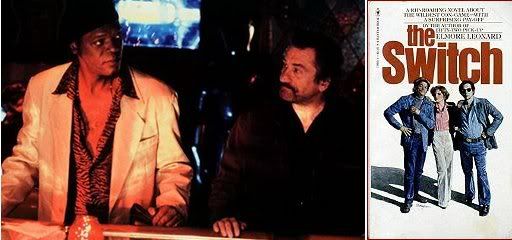 Depending on who you ask, "Jackie Brown" is either Quentin Tarantino's best film to date or his least personal work (it's the only book adaptation he's ever done). Regardless, while it is excellent, and was a modest success, we figured it was only a matter of time before a followup of some kind was on the way.

Well, it is but it won't have Quentin Tarantino's hand behind the camera. Based on Elmore Leonard's novel, "The Switch" is a prequel which chronicles the beginnings of the relationship between Ordell Robbie and Louis Gara, played by Samuel L. Jackson and Robert De Niro in the original, and their first job together which needless to say goes a bit awry. Read about it below from the product description at Amazon:

Ordell Robbie and Louis Gara hit it off in prison, where they were both doing time for grand theft auto. Now that they're out, they're joining forces for one big score. The plan is to kidnap the wife of a wealthy Detroit developer and hold her for ransom. But they didn't figure the lowlife husband wouldn't want his lady back. So it's time for Plan B and the opportunity to make a real killing -- with the unlikely help of a beautiful, ticked-off housewife who's hungry for a large helping of sweet revenge.
Tarantino has apparently given his "blessing" to the project, which is a little strange considering the source material comes from Leonard not him. Anyway, it probably amounts to "yeah, sure, go ahead and make the movie because I was never going to." Tarantino has expressed that he would never tackle another adaptation as it keeps him emotionally removed from the material.

"The Switch" already has a script finished by the unknown

Dan Schechter

. He doesn't pop up on any Blacklist scripts and his IMDB entry has him credited as an editor for a short film. We don't expect either Jackson or De Niro to return and we imagine the entire cast will be made over for the film.

We don't necessarily have anything against the project, but undoubtedly, it will milk that Tarantino blessing as much as possible. The hunt is on for a cast and a director, and while we're marginally interested in this, the best parts of "Jackie Brown" had nothing to do with Ordell or Louis, but with Jackie and Max. Give us another movie with them, and you'd definitely have us excited.

Update:

Speaking of Tarantino, he's apparently working on a Dracula film according to dumb rumors from Europe. Don't believe the hype for a second.