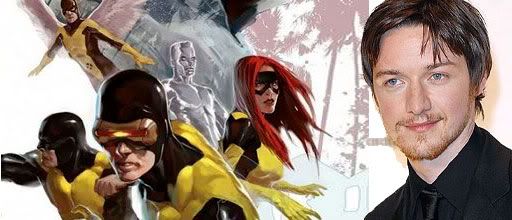 We did say 20th Century Fox were in a hurry and wanted to cast this one quick, did we not?

And it's true. Scottish actor James McAvoy ("Wanted," "Atonement," "The Last King Of Scotland," in the descending order of films you've seen) has been cast as Professor X, or Charles Xavier if you like, in Matthew Vaughn's "X-Men: First Class," which is already set for a June 3, 2011 release date (hence the rush, they have to shoot soon).

McAvoy will be stepping into the role made fanboy-iconic by actor Patrick Stewart; the crippled and glabrous wheel-chair bound teacher of his own School for Gifted Youngsters (mutants). Does this mean the the fantasy dreams we've heard of Michael Fassbender playing Magneto could come true?

Dare to dream, no? We honestly figured they might go after Marc Strong for the role of Xavier, but apparently they are casting much younger which means Cyclops, Beast, Angel, Iceman and Jean Grey — the young version of the "X-Men" screen characters you know — will likely have to be played by actors in the actual realm of teenagedom (and, not the "Spider-Man" 3D idea of a teenager; McAvoy next to 26-year-old Andrew Garfield certainly wouldn't work).

A few short weeks ago, Vaughn was off and on the "X-Men" young reboot, but eventually signed on after some back and forth haggling.

However, the biggest surprise of "X-Men: First Class" is that it sounds slightly closer to the era of the "Magneto" film that was once bandied about. Check what THR gets from Fox:

"[The film] chart the epic beginning of the X-Men saga.

Before

Charles Xavier and Erik

Lensherr

took the names Professor X and Magneto, they were two young men discovering their powers for the first time. Before they were archenemies, they were the closest of friends, working together, with other Mutants (some familiar, some new), to stop the greatest threat the world has ever known. In the process, a rift between them opened, which began the eternal war between Magneto's Brotherhood and Professor X's X-Men."
There's not even a mention of the young X-Men teens. Whatever the case, we should expect to hear more casting news asap, the film is readying a summer shoot in London. The script passed through the hands of
Josh Schwartz

("

The O.C.

"),
writing team Zack

Stentz

and

Ashley Edward Miller

("

Thor

") and most recently, what sounds like a newer version by
Jamie Moss

("

Street Kings

")
underneath the supervision of

Bryan Singer

(who is now one of the producers; sounds like he'll direct another Mutant film a few years down the line, now that they've kissed and made up),
but received a recent touch-up by
Jane Goldman,

co-writer of Vaughn's "

Kick-Ass

" and "

Stardust

."