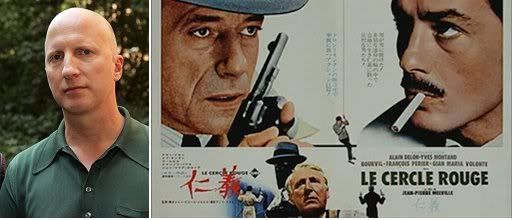 On Saturday we reported that John Hillcoat had revealed a couple more projects on his ever-growing plate of potential gigs, confirming that his frontier revenge film "The Revenant" with Christian Bale was probably next, as well as a "contemporary....crime thriller, set in Hong Kong and Macao." We figured the latter as something new, but just a few hours after the story was posted, we received the latest edition of Production Weekly in our inbox and to our surprise, it turns out the project is the long-gestating remake of Jean-Pierre Melville's classic 1970 neo-noir "Le Cercle Rouge (The Red Circle)."


If the project sounds familiar to you, it's one that has been knocking around for a little while now. At its earliest stages, way back in 2004, it was set up at Paramount with John Woo attached to direct a script by Jeff Pinker ("Alias," "Fringe"). Woo is a longtime fan of Melville's films and even wrote an essay about "Le Cercle Rouge" for the Criterion edition of the film. Obviously, Woo's film never came to fruition and a few years later, he left the project and Johnnie To ("Election," "Vengeance," "Time & Tide") assumed the director's seat. This incarnation seemed to gather steam, amassing a cast that one point had Liam Neeson, Chow Yun-Fat, Orlando Bloom, Tim Roth and Alain Delon (who starred in the original) attached or offered roles, with a script by Steve Knight ("Eastern Promises," "Dirty Pretty Things") that made last year's The Brit List of the best unproduced screenplays.

Now, according to Production Weekly, an offer is out to Hillcoat to direct the film and we would wager if he's already talking about it, he's certainly interested. While the Knight script is knocking about, the difficulty for any director in even attempting to approach Melville's film will be in creating the minimal, almost zen-like atmosphere that make it such a unique pleasure to watch. The original "The Red Circle" is a slow burn, with Melville patiently getting his pieces into place, revealing each twist of the plot with a master's authority and culminating in a legendary and climatic half hour long heist sequence. A contemporary take on the film would need to retain that edge to keep it from becoming simply another cookie-cutter cops 'n' robbers flick. You can read the synopsis of the film, as put together by Production Weekly after the jump. It pretty much follows that of the original:

...about an aristocratic thief who is released from prison the same day a murderer has escaped the custody of a police superintendent. The thief ends up robbing his mob boss and enlisting the help of the murderer and an ex-police sharpshooter for a jewel heist. Meanwhile, the mob boss persuades a nightclub owner and a pimp to help him trap the thieves, while the police officer is also looking to apprehend the convict.
That said, while we are cautious of anyone treading in Melville's territory, Hillcoat can do atmosphere like no other and it would be interesting to see his take on the machinations between cops and thieves. He's certainly got the sensibility for shifting moral terrain and perhaps unlike Woo, who might be too close to the material or To, who is simply inconsistent, Hillcoat might have the right distance and ability to really bring it to life.


With the Hong Kong and Macao locations still intact, this most likely means the project is still being shepherded by Media Asia who has been on board since Woo and Paramount parted ways. And it also means we can expect at least one major Asian actor in the lead roles; perhaps Yun-Fat is still involved? The host of producers include Eric Fellner, Tim Bevan, Arthur Sarkissian (who has been on board since day one), Brett Ratner (!?) and Jay Stern.

It will be interesting to see where this project lines up next for Hillcoat. The window of time for him to get "The Revenant" in the can with Christian Bale is very short. If everything goes according to schedule, Bale will shoot the untitled Terrence Malick romance with Rachel McAdams, Javier Bardem and Olga Kurylenko sometime this fall, and his 2011 will mostly be filled up with work on Christopher Nolan's "Batman 3." Of course, it will depend on how long the Malick shoot takes and how much time he has in between to see if he can fit another film in. However, if Bale simply is unavailable, Hillcoat could re-cast or jump directly to this project. His upcoming day planner is wide open, with a healthy variety of pictures to choose from and we would guess Hillcoat is done waiting around and would move to whatever can come together quickly.