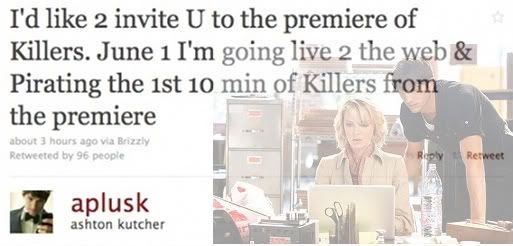 With Lionsgate deciding -- perhaps wisely -- to keep the upcoming and terrible looking assassin comedy "Killers" from screening for critics, it turns out there is still going to be a way for critics and general audiences to see some of the film in advance of its June 4th release date.

Ashton Kutcher has hit Twitter to announce that he is going to "pirate" the first ten minutes of the film when it has its splashy red carpet premiere on Tuesday. Before anyone celebrates the actor's ballsiness, rest assured this is probably a honed publicity stunt that has been cleared by executives up and down the film's production. So, will we really get a shaky phone cam version of the film's first ten minutes or are we gonna be "punk'd" with actual HD quality footage from all the usual Apple/Yahoo sources? Our guess is the latter.

We're not sure what the point is of having an A-list actor celebrity pretend that he's going to pirate a movie as promotion for a film, especially when Hollywood studios spend so much time and money trying to put a lid on piracy. It's frankly one of the dumber (and more transparent) PR moves we've seen in recent memory. But perhaps the most telling indicator about the anticipation for the forthcoming film: did anyone actually get excited or care when Kutcher tweeted that he was going to spill the first ten minutes online? Yeah, didn't think so.