Ok, honestly, we were hoping for a bigger actor in the role (the part kept screaming Jim Sturgess to us for some reason, and you can see we nailed the type), but either way the final central piece of casting for Sarah Polley's upcoming dramedy, "Take This Waltz," has been finalized.

The picture, which shoots this July in Toronto, is a romantic triangle of sorts and centers on a relatively happy couple whose lives are thrown into disarray when a new romantic entanglement enters the female half's life. And we were right about who was playing who. The couple is played by Seth Rogen as Lou, the lovable schlubby male half of the relationship, and Michelle Williams as his needy and neurotic wife Margot. While Sarah Silverman has been cast as Rogen's recovering-alcoholic older sister, the last piece of casting was Seth, the mysterious, arty and tall, dark and handsome character that essentially knocks the married Margot off her feet. That role has now gone to Canadian actor Luke Kirby known for roles on "Cra$h & Burn," "Law and Order: Criminal Intent," and "Halloween: Resurrection." We might not be very familiar with the actor, but he certainly looks the part.

IOnCinema also has the official synopsis and a promo poster for the film which we re-cropped and posted below. We read the script earlier this year and called it an "honest and unflinching study of 30-somethings that is emotionally heavy in tone but also charming and unexpectedly very funny." This writer read it too and couldn't agree more. Polley, who wrote the script herself and is also directing does a wonderful job of balancing painful moods and tones, and it's a really interesting look at the nature of love from a female perspective, but still one that's very universal. It's very high on our Most Anticipated 2011 Film List (or will be when we write that at the end of this year), and based on the script, we have very high hopes of the picture being a very sad/funny, moving and mature work. Here's the synopsis:
When 28-year-old Margot (Williams) meets Daniel (Kirby), their chemistry is intense and immediate. But Margot suppresses her sudden attraction: she is happily married to Lou (Seth Rogen), a celebrated cookbook writer. When Margot learns that Daniel lives across the street from them, the certainty about her domestic life shatters. She and Daniel steal moments throughout the steaming Toronto summer, their eroticism heightened by their restraint. Margot finally gives in to desire and in doing so, discovers some unsettling truths about herself. Swelteringly hot, bright and colorful like a bowl of fruit, Take This Waltz leads us, laughing, through the familiar but uncharted question of what long-term relationships do to love, sex, and our images of ourselves.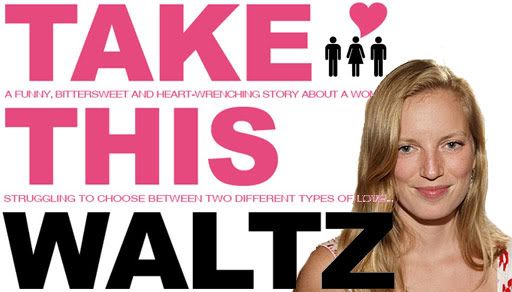 Polley's pretty rad; a smart, funny and sharp female voice who's probably just as aghast at "Sex & The City 2" as the rest of us (the sort of females we like to have writing for this site and the ones we like to keep company with).

And she's a unique talent that we hope has a long and storied career in filmmaking. Did you see her wonderfully mannered and carefully observed directorial debut, "Away from Her," which earned Julie Christie a fourth Best Actress Oscar nomination for her amazing turn as a elderly woman falling into the abyss of Alzheimer's? Seriously, if you didn't dig that picture, we contend you just really don't know and appreciate movies. Onwards and upwards Sarah Polley, we can't wait for "Take This Waltz" (named after a great Leonard Cohen song so less, girl has taste).