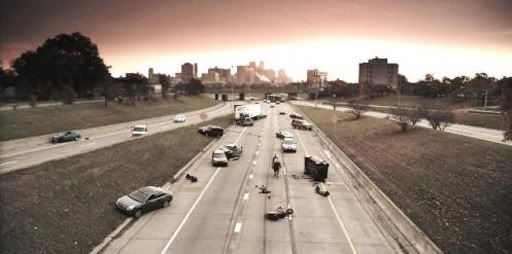 New pictures from "Vanishing on 7th Street" have surfaced. The film is directed by Brad Anderson who was behind the abysmal "The Machinist." The plot follows the survivors of a world-wide blackout that causes countless populations to vanish. "Left Behind" with Hayden Christensen instead of Kirk Cameron, we guess...

Similar to "Pride and Prejudice and Zombies," Fox 2000 has acquired rights to the book "The Secret Journeys of Jack London: The Wild," by Christopher Golden and Tim Lebbon. The book turns celebrated author Jack London into an action hero, the man responsible for literature such as "Call of the Wild" and "White Fang." As he journeys throughout the frozen north, he comes face to face with "monstrous legends." Pretty cool, but this writer's more looking forward to a movie about James Joyce called "Portrait of the Arsonist as a Yong Man" or even "Finnigan's Wake and Bake."

"Wonderland" director James Cox has put together a solid cast for 3D film "No Man's Land." The film will have Michael Clarke Duncan, Sharni Vinson ("Step-Up 3D"), Samm Levine ("Inglorious Basterds," and is this writer alone in getting giddy when a "Freaks and Geeks" actor grabs a role in any film?), Christopher McDonald, and Zuleikha Robinson ("Lost"). The film is about reality show contestants, running a global race that collide with a group of Cajuns. A simple misunderstanding turns into an all-out blood feud. Good luck, Neil Schweiber.

Hasbro doesn't understand how lucky they are. Only in the recent film climate would a film based on "Candy Land" and "Risk" make any sense at all, but the toy company seems to be milking audiences for all they're worth with their new idea, that will a mashup that will be sort of like "Toy Story" meets "Night at the Museum." Indeed, the company wants to give its other franchises a chance, and the film will take place in the Hasbro factory where every toy they have ever made will come alive. It could be one of the longest commercials ever, or... well, that's really it. It's going to be one of the longest commercials ever. This is one of the better reasons to not have kids.

"Grease" will be the word in theaters on July 8th. With no sort of anniversary or any relevance of the date to the film and such, it seems like Paramount is just being honest in saying "We want money this summer." Well, that's fine. We'll take a new print of the film too, thanks a lot. Also planned are "sing along" lyrics at the bottom of the screen, which seems a little unnecessary for a musical like "Grease." We've all been to a wedding before. We know these words.