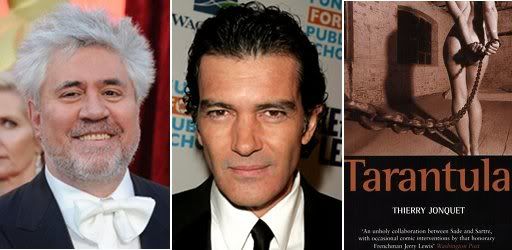 It's been twenty long years since both Pedro Almodovar and Antonio Banderas captured the film world's attention with "Tie Me Up! Tie Me Down!" and the duo are now reteaming for what sounds like new territory for both director and actor.

Titled "La Piel que Habito" (translated, "The Skin I Live In") the film follows "a plastic surgeon's revenge on the man who raped his daughter." Banderas is set to play the plastic surgeon, and Almodovar describes the character as "a real psychopath." "The film will be a terror film, without screams or scares," Almodovar said. "It's difficult to define and although it comes close to the terror genre -- something that appeals to me that I've never done -- I won't respect any of its rules. It's the harshest film I've ever written and Banderas' character is brutal."

So Banderas playing a brutal psychopath in a terror film directed by Almodovar? Sign us up. Even though we were disappointed with Almodovar's last effort "Broken Embraces," his love of cinema and his unbelievable eye for composition and design was still admirably on display. The prospect of him turning his attention to the terror genre (particularly with his love of Alfred Hitchcock) sounds extremely interesting.

The film will be based on the book Tarantula by Theirry Jonquet and if its anything like the Amazon synopsis below, this going to be one of Almodovar's most shocking and provocative films of his career:

Richard Lafargue is an eminent plastic surgeon haunted by dirty secrets. He has an operating theatre in the basement of his chateau and keeps his partner Eve imprisoned in her bedroom, a room he has equipped with an intercom and 300-watt speakers through which he bellows orders. Eve is only allowed out to be paraded at cocktail parties and on the last Sunday of each month, when the couple visit a young woman in a mental asylum. Following these outings, Lafargue humiliates Eve by forcing her to perform lewd sexual acts with strangers while he watches through a one-way mirror. In alternating chapters, Jonquet introduces seemingly unrelated characters: a criminal on the run after murdering a policeman, and an abducted young man who finds himself chained naked in a dark chamber, forced to endure all manner of physical torture at the hands of a mysterious stranger, whom he calls Mygale, after a type of tropical spider. All of these characters are caught in a deceitful web, doomed to meet their fate.
Almodovar says he's rewritten his adaptation nine times, and had not actually planned to announce the film until Banderas spilled the beans first while attending the St. Petersburg Film Festival. It's currently in pre-production and will shoot this summer in Spain.

As for Almodovar's regular muse,

Penelope Cruz

, she won't be appearing in the film this time around but the director tells fans not to worry as "....I'm going to continue seeing her in other roles. I have a lot of stories I want to shoot. Without going any further, I have four scripts in development in my drawer."

--Written by Kevin Jagernauth