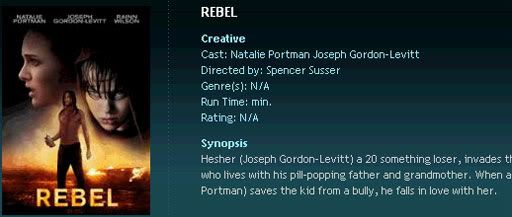 Looking up info for another story on the Nu Image/Millenium Films website, we stumbled across what appears to be a new poster and title for Spencer Susser's formerly (?) titled drama "Hesher," starring Joseph Gordon-Levitt, Natalie Portman and Rainn Wilson.

Now seemingly (and boringly) titled "Rebel," the film was acquired out of Sundance by Newmarket Films who have a habit of picking up leftovers that no one else wants. Their recent slate which has included films such as "The Nines," "Agora," "Death Of A President," and this year's awful "Creation" speaks for itself, and while we love the talent involved in "Rebel," the mixed reviews it received at Sundance and the minor distributor it has lined up doesn't fill us with great confidence.

To refresh your memory, "Rebel" tackles the story about a young kid (Devin Brochu) trying to deal with a loss and the anarchist Hesher (Gordon-Levitt) who helps him and his family on their journey. Wilson plays Brochu's pill-popping father, while Portman plays the girl who tries to save the kid from the burnout Hesher. There is no word yet on when the film will be hitting theaters.

Update: ChaseTheWhale spoke to the director Spencer Susser and he said, nope, the name change is only happening internationally.