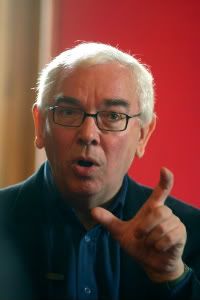 Well, this is pretty much the best news we've had all month. British auteur Terence Davies is one of the country's finest filmmakers, but is still terminally underrated -- his semi-autobiographical works "Distant Voices, Still Lives" and "The Long Day Closes" number among some of the best British movies of the 20th century, while his "The Neon Bible" is deeply undervalued.

His most recent film, the wonderful Liverpool travelogue/memoir "Of Time And The City" premiered at Cannes two years ago, but Davies continues to have problems raising funds for his projects. Nevertheless, Baz Bamigboye at the Daily Mail brings news of a potential new project from the director.

Apparently, Davies is working on an adaptation of Terence Rattigan's 1952 play "The Deep Blue Sea." The drama, a classic of post-war British theatre, follows Hester Collyer, the wife of a High Court Judge, caught in a self-destructive affair with an R.A.F. pilot. The project was filmed before -- in 1955, starring Vivien Leigh in the central role -- to mixed results, but it seems perfectly suited for Davies' sensibility. There's no word on how far along the project is, or where it's set up, but we'll pay for the damn thing ourselves if we have to.