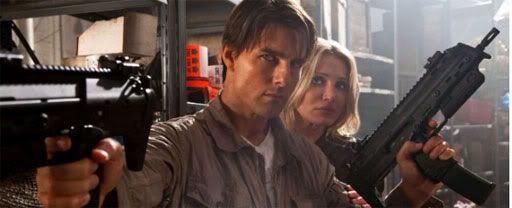 We can't say we're too surprised. The tracking was poor and the buzz was non-existent, but the soft $3.8 million Wednesday opening for the Tom Cruise and Cameron Diaz starrer "Knight & Day" is even lower than what most people expected.

So what happened America? Where did the love go? You kind of freaked when Cruise made a surprise appearance at the MTV Movie Awards as Les Grossman. And it's not like you didn't show up in theaters for "Valkyrie" or "Mission: Impossible 3" (we'll just throw "Lion For Lambs" into the category of Iraq movies no one sees anyway). Perhaps you were simply fatigued by the seemingly endless assassin/secret agent/special ops movies so far this summer like "The Losers," "The A-Team" and "Killers." And really, those movies were crap and we don't entirely blame you for wanting to chance another $12 on this one (though on a half-price matinee, you could do far worse).

At the current rate, the film should finish its five-day opening with about $25 million; not great for a film budgeted over $100 million. As we mentioned yesterday, Cruise has been playing better overseas for his last few pictures, and Paramount, who have "Mission: Impossible 4" in development, will be watching those numbers more closely.

But is America really done with Tom Cruise? We don't think so. Obviously, they are done with him playing "Tom Cruise" -- and really, the best parts of "Knight & Day" are when he subverts his persona -- but seem to enjoy the self-serious actor letting loose and having fun with turns like Les Grossman. It will be interesting to see how "Knight & Day" affects Cruise's choices in the near future; we expect more Grossman-type characters and less Ethan Hunt-styled heroes.