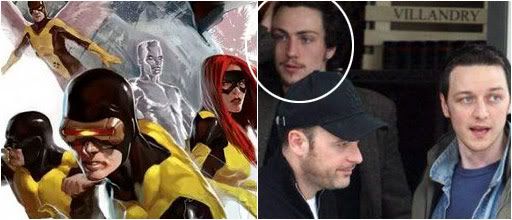 Could Aaron Johnson be re-teaming with his "Kick-Ass" director Matthew Vaughn for the British helmer's next feature-length effort, "X-Men: First Class"?

Sleuthy Filmonic (via /Film) recently found paparazzi photos online in London, England of Vaughn, James McAvoy (who was just cast as the lead character Professor X) and Johnson all palling around (apparently they were all heading to the hospital where Vaughn's wife recently gave birth to a baby girl).

And yes, this is all conjecture and could mean nothing; old and new friends about to celebrate the birth of a child.

However, their is some interesting corroborating information around. Johnson recently met with Bryan Singer about a potential role in "Jack The Giant Killer" and Singer — who is one of the producers on "X-Men: First Class" and obviously directed the first two "X-Men" films — has reportedly been using "Jack The Giant Killer" casting as a way to look out for "X-Men: First Class" actors.

Coincidence? Or where there's smoke there's fire? Filmonic outright speculate that he could play Cyclops and while there is no evidence to back that up whatsoever, that is a decent guess, especially given their age differences — Johnson is 19 and McAvoy is 31, whoever plays Magneto will have to be in McAvoy's ballpark age; we're still campaigning for Michael Fassbender.

Also, did you read the logline for "X-Men: First Class"? It almost sounds like a little more, "X-Men Origins: Professor X meets Magneto" than it does a story about the X-Men heroes as teenagers, and presumably they'll enter the picture at some point, but it's much more focused on the origins of Xavier and Magneto than we imagined.

However, this makes sense and Singer pretty much said this would be the case in an interview with THR late last year when he said, "[The X-Men: First Class] story would probably utilize some of the [X-Men Origins:] Magneto story because it deals with a young Magneto, so it might supersede that [film] because this would explore that relationship between a young energetic professor and a disenfranchised victim of the Holocaust." Makes even more sense because the Magneto film sounds like its dead and this is likely why.