When the spec script, "The Adventurer's Handbook" — written by Jonah Hill, Matt Spicer and Max Winkler — made the rounds in Hollywood it was a white hot property and Universal jumped on the project allegedly in a seven figure deal.

Talent quickly circled the project. Hill and buddy Jason Schwartzman were pretty much immediately attached as the leads and then Jason Segel and director Akiva Schaffer, known for his SNL Lonely Island skits with Andy Samberg and Jorma Taccone soon followed.

Inspired by the stories of explorers detailed in Mick Conefrey's book "The Adventurer's Handbook: Life Lessons From History's Great Explorers," the film was said to follow four childhood friends who embark on a global adventure.

Segel's character was a talented musician and alcoholic, Hill's role was that of an engineer isolated from his family with Schwartzman pegged to play a spoiled and cowardly three-time Grammy winner. But what about that fourth friend?

Well, the film stalled and took a backseat to several different projects from all the cast members, but in an interview conducted with The Playlist yesterday during a "Cyrus" junket (Jonah Hill's next picture which hits theaters June 18), the actor and writer told us that the filmmakers were eyeing James McAvoy, Joseph Gordon-Levitt or Chris Pine for the role.

"It ended up with scheduling conflicts, we'd gotten greenlit, but because of Jason Segel and Jason Schwartzman's television schedules we couldn't shoot in the time slot," Hill said of the 'Handbook' delays. "And then 'Moneyball' came up for me and I went aboard that."

Hill has lined up three other films for the next nine months and it remains unclear when they'll be able to return to "The Adventurer's Handbook," but it's something he still clearly wants to do, but when still seems nebulous. "We'd have to figure out when all of us have time to make it," he said, noting the cast's busy schedules.

Could McAvoy, Pine or Gordon Levitt get offered roles if and when the time comes? It's far too early to say, but it is interesting to hear the kind of talent they had in mind for the fourth character. Dare we say they're all pretty fine choices (though obviously we like McAvoy and JGL the most).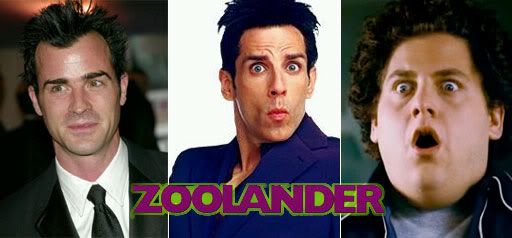 As for Hill's discussed appearance in "Zoolander 2," Hill says nothing is locked in stone, but Ben Stiller is a comedic hero of his and he's geeked out at the possibility. "I haven't read a script yet, but it's something we're all talking about and I'm totally open to doing it. I think I might play the new villain in that movie, but I haven't read the script yet, but I would love to work with Ben."

While Hill has played coy about knowing many details about the film in most interviews, after continued prodding the actor allowed, "I've had input with them as far as my character, but not as far as what the story will be." Asked what kind of villain he would play he simply paused, smiled and said, "You just want to create a character that's different, original and honest. Even if it's a silly movie like 'Zoolander 2.' "

"[Writer Justin Theroux and Stiller] asked me to be in it and it sounds great, an amazing amount of fun," Hill offered. "For me, 'Zoolander' came out when I was in high school, it was a very formative comedy, so to be a part of something like that would be really cool.

As for "Cyrus," the Duplass Brothers dramedy that stars Hill, John C. Reilly, and Marisa Tomei, and earned itself a Playlist rave review at SXSW, as mentioned the film hits theaters June 18 in limited release and then rolls out wider after that. Fox Searchlight has released the tentative scheduled (via /Film) and you can see when it hits your city after the jump. And be surprised and happy as the picture is going fairly wide with at least over 50 cities across North America it appears. — interview conducted by Christopher Bell

"Cyrus" Roll out schedule


Friday, June 18th
Los Angeles
New York

Friday, June 25th
Austin
Boston
Chicago
San Diego
San Francisco
Toronto
Washington D.C.

Friday, July 2nd
Atlanta
Baltimore
Dallas/Ft. Worth
Denver
Detroit
Indianapolis
Minneapolis
Montreal
Portland
Philadelphia
Phoenix
Seattle
St. Louis
Vancouver
Friday, July 9th
Albany
Albuquerque
Ann Arbor
Boca Raton/W. Palm Beach
Calgary
Charlotte
Cincinnati
Cleveland
Columbus
Edmonton
Honolulu
Houston
Las Vegas
Louisville
Madison
Miami/Ft. Lauderdale
Milwaukee
North Hampton/Springfield
Orlando
Providence
Richmond
Rochester
Sacramento
San Antonio

Friday, July 16th
Anchorage
Asheville
Baton Rouge
Birmingham
Boise
Buffalo
Champaign/Decatur/Springfield
Charlottesville
Colorado Springs
Corpus Christi
Dayton
Des Moines
El Paso
Fresno
Ft. Myers
Gainesville
Grand Rapids
Halifax
Harrisburg, PA
Hartford/New Haven
Ithaca
Jacksonville
Kansas City
Kitchener/Waterloo
Knoxville
Lansing
Lexington
Memphis
Nashville
New Orleans
Norfolk/Newport News
Oklahoma City
Omaha
Ottawa
Pittsburgh
Portland, ME
Raleigh/Durham/Chapel Hill
Reno
Salt Lake
Santa Fe
Spokane
St. John
Syracuse
Tallahassee
Tampa/St. Petersburg
Tucson
Tulsa
Victoria
Winnipeg