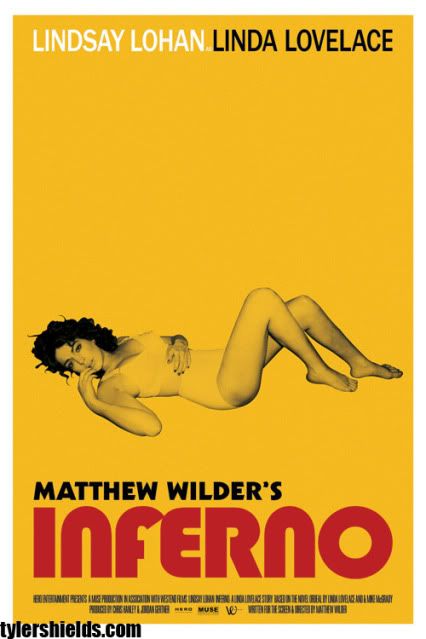 So presuming Lindsay Lohan doesn't go to jail for violating parole (she's a celebrity -- sort of-- so she won't) she's still attached to star in "Inferno" a biopic for notorious "Deep Throat" pornstar Linda Lovelace. Some details from the script have leaked and they are interesting to say the least. Apparently "child abuse, three orgasms, two beatings, intense humiliation and a bloody car crash" all happen within the first 32 pages. Despite the front-loading of some salacious material, the script is apparently very good, drawing comparisons to "Boogie Nights." It's now up to director Matthew Wilder to make the magic happen, but don't hold your breath.

Alexander Skarsgard is set to star in "The Elephant" which isn't about an animal but is actually an oil-rig thriller (wha?). Set to be directed by Hans Petter Moland ("The Beautiful Country") the story follows "a Norwegian roustabout who tangles with a redneck American driller. The two men bond while attempting to shut down a terrifying oil rig explosion." As much as we would love this to be about the recent events surrounding a certain asshole petroleum company, it's not, instead focusing on American oil drilling in Norway in the '70s and the impact it has on the nation and its citizens. Casting is underway for three American actors to join the film.


Josh Peck ("The Wackness") is set to star in "The Siege Of Fulton Avenue." Based on a New York Magazine story by David Amsden, the plot follows a bunch of rich kids in Westchester who throw a wild party, only to have the police show up, forcing a stand off. The kids rush to destroy evidence of (presumably) their boozing, drug taking and raucous ways while holding the police at bay. Apparently, this one will aim to be a comedy somewhere between "Superbad," "Risky Business" and "Can't Hardly Wait." Man, won't those Westchester kids ever get a break?

Is Mars the new Pandora? Fox-based producer John Davis ("Predators," "I, Robot") has optioned the Ray Bradbury collection of short stories "The Martian Chronicles." There are certainly shades of the James Cameron film as the book tells the story of humans who colonize Mars after Earth is destroyed. Naturally, conflicts with Martians arise. The material was previously adapted into a television mini-series with Rock Hudson.

Jeffrey Dean Morgan ("Watchmen"), Nat Wolff ("The Naked Brothers Band") and Broadway actresses Marissa O'Donnell and Elizabeth Olsen are set to join Jane Fonda, Catherine Keener and Chace Crawford in the indie dramedy "Peace, Love & Misunderstanding." The tired premise follows a NY lawyer (Keener) who takes refuge at her hippie grandmother's (Fonda) home in the wake of a divorce. Naturally, conflicts arise between Keener's presumably buttoned down corporate go-getter spirit and Fonda's free-thinking, pot-smoking ways. Far out man.