While the vampire phenomenon doesn't show any signs of going away, publishing and studio executives alike are hot on the tails of anything, something, that might mimic the success of the "Twilight" phenomenon. We've got teen angels, aliens and weird veiny bald dudes all on the way, but there seems to be a bit of a mini-trend developing: fairy tale characters.

Adam McKay is developing horror-comedy "Hansel and Gretel: Witch Hunters," Bryan Singer gets underway on "Jack the Giant Killer" next year, and original "Twilight" director Catherine Hardwicke is currently shooting "The Girl With The Red Riding Hood," and now two more potential projects look to be joining them. Heat Vision report that Brian Grazer and Ron Howard have picked up the rights to the graphic novel "Legends," and will be producing the film version along with Radical Pictures.

The story is set in a steampunkish fairy tale world, where a killer is picking off famous characters. When Pinocchio is murdered, Red Hood, a wolf hunter, and Jack team up to find the murderer, along with Goldilocks, a mercenary, and Hansel & Gretel, psychic exterminators. No talent is currently attached.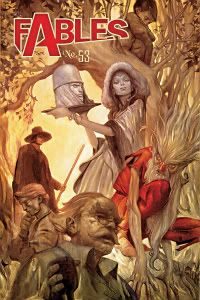 A more established comic book name is "Fables," the long-running Bill Willingham-penned series that focuses on characters from folklore who have been exiled from 'the Homeland,' and are forced to live in New York. ABC have been developing a TV version for a couple of years, but now Pajiba have reported a rumor that "Harry Potter" helmer David Yates, who was rumored earlier in the week to be connected to "The Hobbit," might be attached to direct a movie version of the comic book over at Warner Bros. The site suggest that, if the reports are true, then it's some way off.

We gave the series a try a few years back, but were so put off by the clunky writing in the first collection we've never picked it up again (although we are assured that it improves as it goes along). Still, there's plenty of potential there (more so than with the terrible-sounding, fanboy-baiting "Legends," really), and Yates would appear to be a strong choice if it goes ahead. The bad news? "Jonah Hex" producer Gregory Noveck is shepherding the project...