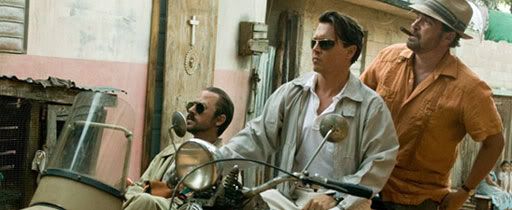 At one point rumored for a premiere at Cannes, we haven't seen or heard a lot from the "The Rum Diary" starring Johnny Depp this year other than some set photos and what not.

Anyone who's a fan of Johnny Depp in "Fear and Loathing in Las Vegas" (is anyone not?) should be looking forward to his long-awaited second role as a Hunter S. Thompson surrogate.


Cult director Bruce Robinson ("How To Get Ahead In Advertising") — who hasn't helmed a feature-length film since "Jennifer Eight" in 1992 — is directing, and he's also a name you may recognize as the mind behind the wonderfully acidic English black comedy, "Withnail and I" – one of Depp's all-time favorite films. Aaron Eckhart, Giovanni Ribisi, Richard Jenkins, Michael Rispoli and the easy-to-look-at Amber Heard co-star.

In the picture, Depp plays Paul Kemp, a freelance journalist who finds himself drawn to the Caribbean at a critical turning point in his life. Self reflection and destruction ensue. Anyhow, there's not much more info to go on, but the first two new production stills have surfaced thanks to Dutch site FilmTotal (via /Film).

One photo shows Ribisi, Depp and Rispoli on a motorbike in what looks like Havana and the other is obviously Depp just on his own (god, wouldn't we all love to have his remarkable aging genes).

The Dutch site suggests that the film is coming out in their territory on December 16. There is no U.S. release date set yet, but the film is expected in theaters later this year. We would assume the fall, but perhaps we would have heard that date already. "The Rum Diary" doesn't strike us as a December release film. At least not for North America. Maybe November?