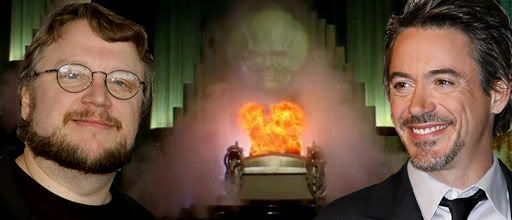 Oh boy, here we go again. To mix our movie references, one man enters, one man leaves.

Or something like that. Sam Mendes just picked up an adaptation of Ian McEwan's acclaimed 2007 novel "On Chesil Beach" for Focus Features and then concurrently said, thanks but no thanks to Disney's "Oz The Great and Powerful" prequel.

Adam Shankman and Timur Bekmambetov are on the shortlist to direct the 'Oz' film (Shankman incidentally is not doing "Hairspray 2" which is apparently dead), and now yet another name has entered the mix and it's one former "The Hobbit" director Guillermo del Toro according to Deadline.

Though even according to their sources, it's just a rumor that's going round that the Mexican helmer could meet with the production since he's now free of his 'Hobbit' duties.

That's about all the intel they have at the moment and it's thin, but since all eyes are on del Toro and "The Hobbit," it's certainly worth keeping tabs on.

This writer hasn't read the 'Oz' script, but our U.K. writer has read a very recent draft and he has not had anything favorable to say about it internally (and he's hinted about that here too). Robert Downey Jr. is said to still be circling the role of the Wizard, but with "Gravity" and "Sherlock Holmes 2" on deck (one apparently shooting in the summer, the other evidently shooting in the early fall), one probably assumes this will have to start lensing in 2011.

Fairy tales and any sort of derivatives of are all the rage in Hollywood thanks to Tim Burton's "Alice In Wonderland." A Snow White project is happening thanks to Brett Ratner, "The Devil Wears Prada" screenwriter Aline Brosh McKenna just got paid sick money to pen a live-action version of "Cinderella," and we assume more projects like this will be coming down the pipeline soon enough.

As for del Toro? Well, he's free, but he has tons of other projects he could get to, including adaptations of Dan Simmons' Dickens-horror novel "Drood," new versions of "Frankenstein" and "Dr. Jekyll and Mr. Hyde," and an adaptation of Kurt Vonnegut's "Slaughterhouse Five" (all four are Universal projects he has set up). He also has a possible collaboration with Neil Gaiman on Marvel's "Dr. Strange," the superpowered spy-drama "Champions" with Tom Cruise, and the Spanish-language "Saturn and the End of Days," the final part of the trilogy begun with "The Devil's Backbone" and "Pan's Labyrinth." He's also got a series of films aimed at kids coming up with Disney, as well as "Don't Be Afraid Of The Dark" later in the year with Guy Pearce and Katie Holmes, which Del Toro wrote and produced just to name a few.

The director has plenty of projects to choose from, so a meeting he may take, but whether that conversation goes anywhere remains to be seen, but we suppose the fairytale aspect of this one is up his alley too. There's also the tantalizing prospect of working with Robert Downey Jr.