Kind of a low-impact weekend offering a bit of a breather between bigger tent-pole releases. It's a mixed bag of mid-budget studio films, unusual for early June, with potential hits in "The A-Team" and "The Karate Kid" looming on next week's horizon. Honestly we'd rather see things like "Get Him to the Greek" and "Splice" than most of what Hollywood has to offer this summer. "Shrek Forever After" will likely remain at the top of the box-office for the third week even with "Marmaduke" trying to bite off a piece of its audience. The art-house is a little slower than normal this week as well with "Ondine" being the highest-profile release.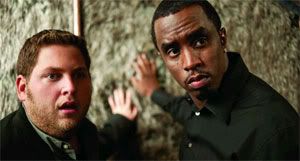 In Wide Release: Russell Brand continues his stateside invasion with the "Forgetting Sarah Marshall" spin-off "Get Him To The Greek." Brand reprises his obnoxious rock star character Aldous Snow from the 2008 film, a comedic mix of Bono, Michael Hutchence, and the Gallagher brothers. Jonah Hill plays Aaron Green, the scrappy industry troll who is tasked with an impossible 72-hour assignment: escort Snow from London to LA for the first date of his monster comeback tour. We reviewed the film earlier this week, finding it darkly funny but very uneven. Rose Byrne and Sean "Diddy" Combs also star in the Nicholas Stoller-directed picture. Rotten Tomatoes: 73%, Metacritic: 65.

Adrien Brody and Sarah Polley are romantically entangled geneticists who decide to add human DNA to their promising animal hybrid experiments in "Splice." The scientists end up with an oddly sexy french-accented creature with wings and a barbed tail (played by Delphine Chaneac) and everyone lives happily-ever-after. Or not. We reviewed the film yesterday and were excited to find that the film mostly lives up to the Sundance hype, reminding us of early Cronenberg: scary and disgusting, but also smart and funny. RT: 68%, Metacritic: 65.


Other films opening wide today: In an attempt to out-suck the recent "Garfield" movies, we are presented with a live action "Marmaduke" film. Owen Wilson is the voice of the Great Dane, with George Lopez, Steve Coogan, Fergie, and a couple of Wayans Brothers also cashing checks. RT: 10%, Metacritic: 29.
Ashton Kutcher and Katherine Heigl play lovers/assassins in "Killers." The film is basically "Mr. and Mrs. Smith" with lower wattage stars and a smaller budget. We might have checked out a screening of this, based on that fact that Tom Selleck apparently makes an appearance. Oh well, at least "Marmaduke" had the balls to screen for critics.

In Limited Release: Director Neil Jordan's latest "Ondine," is out today. The off-kilter fairytale stars Colin Farrell as a fisherman who catches a strange and alluring woman in his net and we won't spoil where it goes from there. We reviewed the film back at the Toronto Film Festival, finding it dreamy, romantic and bittersweet with an understated and impressive performance from Farrell. Alicja Bachleda, Stephen Rea and Alison Barry also star. RT: 61%, Metacritic: 64.


Also out in limited release, "Convention" a documentary made by 11 filmmakers with all-access to the 2008 Democratic Convention. The IFC-released film hasn't picked up a whole lot of buzz, but we're curious. Filmmaker Johan Grimonprez's unclassifiable documentary "Double Take" takes a look at Alfred Hitchcock's output of the 50's and 60's against Cold War-era political anxiety. Color us interested in any film that draws multiple comparisons to Orson Welles' great "F For Fake." RT: 68%, Metacritic: 66.