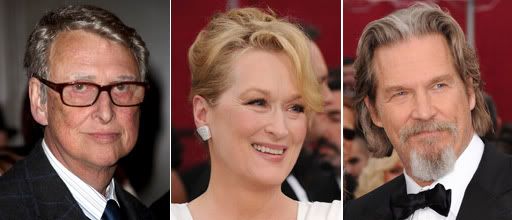 Yesterday we reported that Meryl Streep and Jeff Bridges were set to star in the marriage crisis drama "Great Hope Springs," and we tagged the film as an easy awards season contender. The only stumbling block seemed to be the director Jessie Peretz ("I Am Sam," "Corrina Corrina") who, while not terrible, is a bit workmanlike and manipulative for material that deserves to be explored with some depth. However, that may change.

The Wrap reports that Mike Nichols is in talks to take over directing duties, attracted to the project by the talent involved. Of course, this will be territory Nichols will be more than familiar with having directed the classic marriage meltdown film "Who's Afraid Of Virginia Woolf?" and exploring similar themes more recently in "Closer." Nichols has also worked with Streep before, directing her in 1983's "Silkwood" which earned five Academy Award nominations including Best Director and Best Actress. We think he's a great choice for the director's chair, and really, the potential line up of Nichols/Streep/Bridges definitely has us excited.

As we mentioned yesterday, Philip Seymour Hoffman was also attached at one point, but with the film presumably shooting in the fall, he will run into scheduling conflicts that will prevent him taking the role of Dr. Fields. More on this one is sure to come soon.