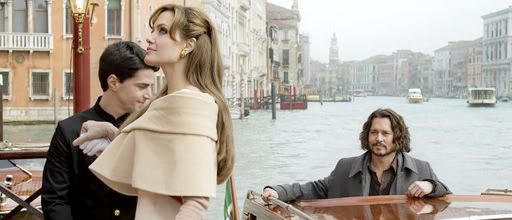 Here is the the latest still from Florian Henckel von Donnersmarck's upcoming romantic spy drama "The Tourist" starring Angelina Jolie and Johnny Depp.

The film is based on the 2005 French film "Anthony Zimmer" and follows a bumbling American tourist as he finds himself romantically involved with an international spy in what sounds very much in the vein of a Hitchcockian tale. Timothy Dalton, Steven Berkoff, Paul Bettany and Rufus Sewell also co-star in the pic which shot in Venice.

An interesting sidenote to the story, however, is that the English tabloid The Sun is additionally reporting the film "is set for release this December." But are they noting the release based on some solid information? It's not exactly their strong suit but they did receive this exclusive still plus it's already been mentioned that the film "may be released as early as Christmas" through European distributor Studio Canal. "The Tourist" does seem like the perfect film to capture the same holiday season market that Guy Ritchie's "Sherlock Holmes" did so well with last year and with Jolie and Depp, it has some easy built-in marketing already, right?

The film's script has seen endless iterations from the likes of Julian Fellowes, Christopher McQuarrie ("Valkyrie"), Jeffrey Nachmanoff ("The Day After Tomorrow") and William Wheeler ("The Hoax") but the last draft we read, which seemed to have all their revisions, was quite buoyant, charming and light, promising an entertaining feature.