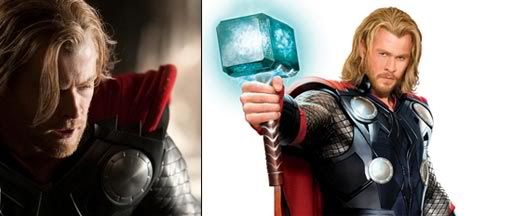 Ok, maybe there is hope for "Captain America: The First Avenger" (despite the fact that Joe Johnston is at the helm). New concept art for Kenneth Branagh's "Thor" that just leaked last night (via Collider) reminds us of one crucially important fact: character concept art is so damn silly looking and makes everything look hyper-ghey* lame and dumb.

After all,we have already seen a photo of Chris Hemsworth as "Thor" in costume and it was surprisingly non-embarrassing (look, we're just sort of terrified this movie will end up "Daredevil"-esque, ok?), but this concept art with the airbrushed faces and whatnot and the non-lighting... hell, it just looks silly to us (and yes, the shot above it not terrible, but some of the other photos are just so stilted and awkward looking). Even HitFix, who have seen the final costume in person and on set, think this concept art is way out of whack.

Ok, that's cause it is just concept art and we've learned our lesson here to not judge it too harshly as that's all it is. The costume was once described as "Straight up medieval future tech looking…Thor is balls accurate though complete with cape, chain mail arms, the circles going down the front of the torso, and winged helmet" and yeah, we suppose that assessment is on point (though the Jim Morrison-like leather pants of "Thor" in the larger pics at Collider are a little disconcerting).

Apart from Chris Hemsworth as the hero "Thor" (yes, he's relatively unknown and had a role in "Star Trek"), the film also stars Tom Hiddleston (his evil brother Loki), Natalie Portman (the love interest), Jaimie Alexander, Colm Feore, probably Samuel L. Jackson as Nick Fury, Stellan Skarsgård, Ray Stevenson, Tadanobu Asano, Idris Elba, Kat Dennings, Rene Russo, Adriana Barraza and Anthony Hopkins just to name a few. The picture is scheduled to hit theaters May 6, 2011. We assume something of note will be shown at this year's Comic-Con 2010.

*Sorry, ghey is just the perfect word, as juvenile as it is, though maybe not any more juvenile then "balls accurate." Btw, if you think we're being snobs about it, even geek-friendly Hitfix has issues with these images (or at least can understand why folks like us have some concerns).