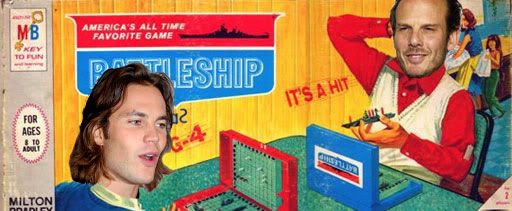 "Move bitch, get out the way, get out the way," is how the Ludacris song goes, no? Maybe we have that on the brain because of the Les Grossman film news.

Anyhow, it's an appropriate couplet because it might be the tune that "Men In Black 3D" is singing to all comers as it races to screens two summers from now.

And perhaps sensing an implacable juggernaut they can't even face, Universal has jumped ship and steered their Peter Berg-directed "Battleship" out of the May 25, 2012 slot they both occupied. "Battleship," which will star Taylor Kitsch fighting aliens on board a naval vessel (yes, it's a loose interpretation of the Milton Bradley game), has now moved to a week earlier on May 18. Collision crisis averted! No battleships have been sunk!

Currently occupying that same date is DreamWorks' "Madagascar 3," but presumably those are two distinctly different audiences and from everything we've heard, "Battleship" might be headed for a hard PG-13 (lol, that's the new, "we're almost Rated R!"). Apparently, while the film won't be in 3-D (or at least that's the line they are spinning now, but we won't be surprised if that changes) it will also star Tom Arnold. Filming starts in August, all hands on deck!