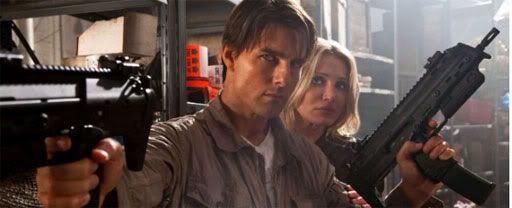 Silly, ridiculous, and yet at times deliciously entertaining,

James Mangold

's first summer tentpole, "

Knight & Day

" mostly works and is a better-then-average slice of summer fluff (though only barely at times). While the picture is also occasionally incoherent, the devil does not lie in these escapist popcorn details and the picture is just a thrill ride to be enjoyed (and or tolerated depending on your taste).

The biggest problem with the picture is its arc:

Tom Cruise

is always best when subverting his image and not playing himself, and he does so winningly in the first half of the picture, seemingly relishing the opportunity to upend his visage, but ultimately, this script (or his meddling) can't resist the urge to make him the hero once more which takes off the edge and delight on the original set-up.

Cruise stars as Roy Miller, a rogue CIA agent who is like "

Mission

Impossible

" agent Ethan Hunt only seemingly having gone batshit crazy, traveling by plane to Boston for unknown reasons. Needing to pass through airport security, he finds a mark in sap June Havens (

Cameron

Diaz

) who is traveling back from Witchita with used car parts (why that last detail is important? don't ask, it's kind of superfluous). But his ex-CIA cronies

Peter

Saarsgard

and

Viola Davis

have other plans and plant agents on the plane for his capture. They also mistake Diaz for a co-operative and put her back on the same plane with Miller just moments after she was bumped to the next flight.


What ensues is a deeper meet cute on the flight where Diaz explains she has to travel to Boston for a wedding, soon followed by a violent airplane battle while she cluelessly powders her nose in the bathroom. The well-choreographed (and amusing) fight sequence leaves everyone dead, including the pilots, and Cruise must crash land the plane and escape. But not before drugging Diaz, warning her about the impending CIA agents who will come looking for her to glean info and all while claiming his innocence. It's in these early scenes, with Cruise charmingly saying that, hey, "these things happen" when describing how everyone on the plane ended up dead, that the movie's warmth and also its out-and-out craziness is revealed, a tone that it has trouble keeping up with for the rest of the movie. Still, if you're not on board by this moment, then you're never going to be.

The CIA does pick her up for questioning — seemingly under the guise to get rid of her — and after a furious gunfight with ludicrous action set pieces, Cruise regains her back in his custody.

What unfolds is a possible story of derangement or betrayal. Cruise is on the hunt for Simon Feck (

Paul Dano

), a genius inventor who created a perpetual energy battery called the Zephyr, but so are the CIA and the dangerous men belonging to Antonio (

Jordi Mollà

), a Spanish arms dealer hellbent on world domination through this new energy source.

The film then traipses through unnamed Caribbean Islands, the Swiss Alps, and Spain, all the while using a clever (if somewhat misogynist) Diaz-drugged plot device to move the film quickly and effortlessly from one location to another and cunningly eschewing the how and why. In fact, these sequences are some of the film's funniest, using the hazy view point of Diaz's character to dip in and out of consciousness at key action moments that are a highly amusing tease. It's as if James Mangold, who seems to be exhibiting his keen interest in genre deconstruction (see also: "

Identity

," "

3:10 to Yuma

"), is saying "Ah, it doesn't matter. Most action movies have terrible, tenuous connections between one action set piece and the next. We're going to draw attention to that and get rid of those connections altogether."

Where the film goes wrong — as evinced in the trailers — is the second half which drops most of the intrigue and subversive humor in favor of straight up action and chase sequences. While thrilling and expertly composed — aside from the glaringly bad CGI with the running of the bulls in Spain, which is still at least 100x better than the "

Twilight: New Moon

" CGI — these scenes are also rather rote, by-the-numbers and never quite as enjoyable as the film's early set-up. Instead of sending up the action genre in those early sequences, the film becomes trapped by the same conventions.


And again, once Cruise inevitably becomes the hero, the zaniness of the picture and possibilities of his "crazy" character start to quickly lose their flavor. In fact, he just stops being funny. It's like watching the entire "

Lethal Weapon

" franchise play out in one movie, as the Mel Gibson character became less and less crazy (and less and less fun to watch) as the series wore on. Once called, "

Witchita

" then "

Trouble Man

" and having undergone many, many reshoots, "Knight & Day" (the title almost makes no sense) is clearly a cobbled effort in its third act, but it's a testament to the thrill ride that one doesn't really care and any dangling plot threads can't possibly ruin the film (it's mindless, fun entertainment, nothing more; no need to complain on that end).

What "Knight & Day" demonstrates more than anything, is that James Mangold is completely capable in the action tentpole realm, and the film is a far, far cry from his indie pictures like "

Cop Land

," and "

Heavy

" or even "

Walk The Line

." Expect him to get more work in this arena if he wants it. This may not be too much of a surprise for those that saw the vastly underrated Mangold picture "

3:10 To Yuma

" which may have been the best action drama of 2007. It would have been nice to see him inject some of his earlier, dogged commitment to character into "Knight & Day," which more often than not coasts on archetypes more than actual human beings (the crazy spy, the slippery bad guy, the mad scientist, etc.)

That said, the action setpieces in
"Knight & Day" are leaps and bounds above the technical work in that Western and perhaps "Knight & Day" also proves that even dramatists can handle complicated action if they have a good second unit/stunt team. He also seems to have a knack for editorial work, with the action sequences having a zippy snap even if the set-ups are things we've seen before. There's also a clever "reveal" trick that he does a few times to introduce us to where our globe-trotting characters have found themselves. This doesn't make up, however, for the fact that we never

see

Cameron Diaz make the decision to stick with this crazy secret agent. Three letters: WTF?

"Knight & Day" might not be genius and we surely recommend you spend your money on an indie before you spend money on an enjoyable, but largely vapid large-scale Hollywood entertainment like this, but in a summer that has provided creatively bereft duds like "

Jonah Hex

," "

A-Team

," "

Prince of Persia: The Sands of Time

" and "

Robin Hood

," you could do a lot worse. [B-]