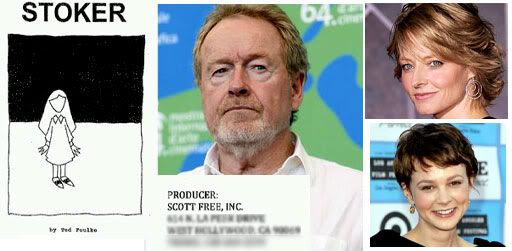 File under rumor if it makes you feel a little better, but we just received a good tip in the mail from very good sources (and there's corroborating evidence everywhere).

The email contains the script to "Stoker" a screenplay by Ted Foulke and it's already a Scott Free production (Ridley & Tony Scott) that's set up at Fox Searchlight. Apparently the screenplay has a lot of buzz at the moment in Tinseltown which is making it a hot property.

We've been told that Ridley himself is eyeing to direct the piece and that Jodie Foster and Carey Mulligan are attached to star.

Quickly thumbing through a few recent issues of Production Weekly, indeed Foster and Mulligan are mentioned as possible leads. And on top of that, Pajiba actually quietly reported the two actresses involvement yesterday (Update: The LATimes have chimed in and reconfirmed Mulligan too. Interestingly enough, we had difficult time finding a CV for Foulke and this might be why — apparently he's the pen name of "Prison Break" star Wentworth Miller).

As they write, "Stoker" focuses on a moody teenager (named Indiana Stoker) who — after the death of her father — has to deal with a mysterious uncle who returns to spend time with the family. We assume that role will be Mulligan's? More when we read the script this weekend.

So will Scott direct? He's definitely interested so far, but as we know, Scott is attached to direct 10-plus (give or take) projects and who knows when those will go into production (last we heard the "Alien" prequels are coming next). As Movieline loves to quip, this might be another Ridley Scott picture that he signs on to officially (eventually never) direct.