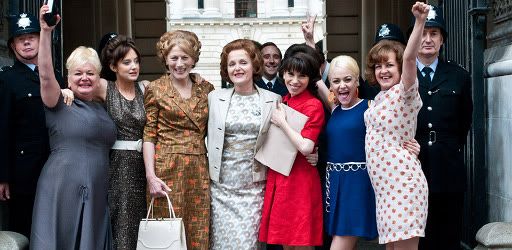 Sony Pictures Classics has set their fall release date, confirming the dates for several highly anticipated arthouse films including new films by Woody Allen, Zhang Yimou, Mike Leigh and Stephen Frears.

First up, Zhang Yimou's bizarro remake of the Coen Brothers' "Blood Simple" will open on September 3rd. Entitled "A Woman, A Gun And A Noodle Shop" the film plays mostly as a comedy, apparently features a rap written by Yimou and from most accounts is pretty bonkers. We're curious.

Later in the month, Woody Allen's latest "You Will Meet A Tall Dark Stranger" will open in theaters on September 22nd. The London-set comedy starring Josh Brolin, Naomi Watts, Anthony Hopkins, Freida Pinto and Lucy Punch premiered out of competition at the Cannes Film Festival in May and received largely middling reviews, so don't expect any awards season contention from this one.

On October 8th, Stephen Frears' graphic novel adaptation "Tamara Drewe" starring Gemma Arterton will hit theaters. The film is an ensemble comedy that is a modern take on Thomas Hardy's "Far From The Madding Crowd." We saw the film at Cannes, and thought it was a fairly rote Brit comedy, but that being said, it has a breezy charm and familiarity that should win over audiences. This one got some big laughs (including a couple from us) and does have a winsome personality.

Heading into Thanksgiving and Christmas, Nigel Cole's feel good dramedy "Made In Dagenham" will roll out on November 19th. The film stars Sally Hawkins, Jaime Winstone, Andrea Riseborough, Bob Hoskins, Daniel Mays, Rosamund Pike and Miranda Richardson in the based-on-the-true-story tale of the 1968 strike at the Ford plant in Dagenham in support of equal pay for women. Cole previously directed "Calendar Girls" and judging by the international trailer, it seems to be hitting all those same notes.

Arriving on Christmas Day, Sylvain Chomet will unveil his highly anticipated followup to "The Triplets Of Belleville" with another musically driven comedy in "The Illusionist." The charming premise follows a magician who is cornered into irrelevancy by the emerging rock 'n roll scene but finds new hope in a young fan. The film is based on an unproduced script by French comedy legend Jacques Tati.

And finally, in what is surely the main awards season bait for the studio, Mike Leigh's "Another Year" will arrive in theaters on December 29th. The film premiered at Cannes to largely rave reviews. It looks like yet another winner from Leigh, and talk has already begun to center around Lesley Manville as an early awards season candidate. The new film follows an aging couple throughout a year, containing a slew of scenes from each season and focusing on their interactions with various characters, including their son, co-workers, etc, and as the loosely plotted film goes on, simple truths about life, love and everything else are revealed. While it might not be the crossover "hit" that "Happy-Go-Lucky" was, it should satisfy longtime fans and critics of the director.

Still awaiting a release date is Charles Ferguson's financial crisis documentary "Inside Job." Narrated by Matt Damon, the film goes deep into the industry and political corruption that nearly led to the collapse of the economy. This one seems like a no-brainer for a run at Best Documentary so we expect it to be slated soon (and also because the window of interest of people wanting to watch anything about this topic is going to close very shortly).