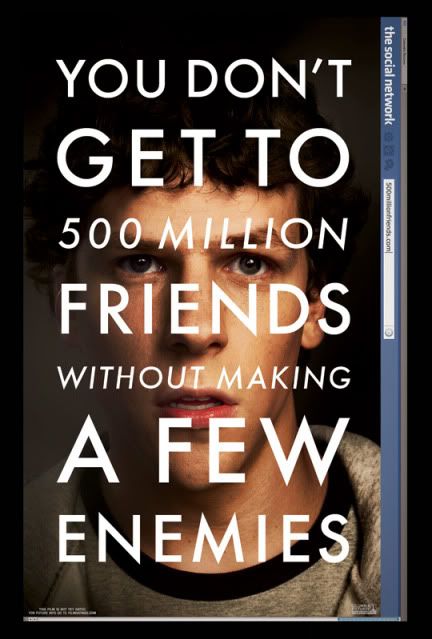 Damn, released this late on a Friday? Don't get your hopes up too high. The teaser trailer for David Fincher's "The Social Network" doesn't show any footage, but it sure does give you a lot of dialogue and pretty much tells you the plot -- not that it was much of a secret.

The film, penned by Aaron Sorkin and based on "The Accidental Billionaires," is about the founders of the social-networking website, Facebook. And while that sounds boring, remember the book's tagline was "A Tale of Sex, Money, Genius and Betrayal."

Jesse Eisenberg plays Mark Zuckerberg, the actual creator of Facebook (wonder how much he got paid for signing over the rights), Andrew Garfield plays his co-founder Eduardo Saverin, Justin Timberlake plays Sean Parker the co-founder of Napster and Plaxo, and the cast is rounded out by Rashida Jones, Max Minghella, Rooney Mara, Dakota Johnson and Joseph Mazzello.

Those who are expecting a boring computer movie should think again. And even though the court-room drama parts of the film in the screenplay bored us, it's David Fincher, so we're more than willing to give this the benefit of the doubt (almost perversely because it annoys Fincher fans who would rather him make serial killer films over and over again for the rest of his career).

One thing that's clear, and really should be known from the outset if you know anything about this story is that Zuckerberg is not portrayed well in the book and you can tell by Jesse Eisenberg's devious sounding voice that this will finally be a departure from the neurotic teen character he usually embodies. Thank god for that. One of our favorite lines in the trailer is from Timberlake saying, "A million dollars isn't cool. You know what's cool? A billion dollars." Also kudos to the ominous musical touch that sounds like something straight out of a Stanley Kubrick film.

Under the aegis of Sony, Fincher's new home, "The Social Network" is due in theaters October 1st. From what we hear, the picture has been finished for some time now which is why Fincher's already in Europe doing location scouting for his next project, "The Girl With The Dragon Tattoo" starring Daniel Craig (yes, his contract is basically done).