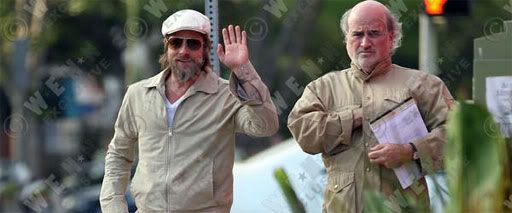 Yeah, so paparazzi shots are not so much our thing you probably noticed, but we woke up this morning to several emails in our inbox with links to the fact that Brad Pitt and Terrence Malick were spotted together in L.A.

One L.A. reader actually had seen them together and then googled and found the image on WENN.

Is that actually Terrence Malick? It sure looks like it to us. What is the recluse doing out in public in Los Angeles of all places, practically wearing matching outfits with Mr. Angelina Jolie? Is that a script he's holding (speculative drool)? What does this mean for "The Tree of Life?" Does Brad still have to do ADR or additional voice over work?

We're not going to posit conjecture further than that, but we are intrigued somewhat and hell, with the number of responses this a.m., we figured, what the hell: Fyi, Terrence Malick sometimes does leave the house.