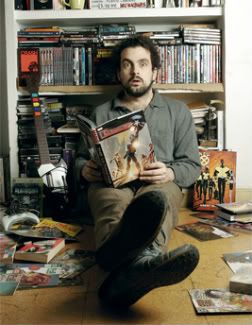 If you haven't seen Nacho Vigalondo's debut feature "Timecrimes" (and too few have), you should seek it out right now; it's as smart and thrilling a take on time travel as anything since "Primer," and marked the emergence of an exciting new genre filmmaker (his Oscar-nominated short "7.35 in the Morning" is worth checking out too -- it's embedded below). But he's been quiet since then; he signed on to the Steve Zaillian-produced action-comedy "Gangland" last year, which was originally reported as being written by Pat Healy ("In Treatment"), but sources tell us that Vigalondo is actually writing himself, and producers are awaiting a new draft.

A remake of "Timecrimes" is in the works, also to be produced by Zaillian; net rumors linked David Cronenberg to the director's chair, but we're told that the Canadian helmer was never involved at all. Timothy J. Sexton ("Children of Men") is penning the script, and the project's still in development, but, like James Bond and "The Hobbit," is being held up by the financial tribulations of MGM, where it's set up

Now word's come in, via Bloody Disgusting, that Vigalondo is prepping a new project. The director revealed on his blog that he's currently working on a Spanish alien invasion horror film called "Extraterrestre," which will go before cameras next month. Apparently, it'll involve a group of people "who experience a global alien invasion without even knowing it has happened, by listening to rumors, or engaging in pointless activities."

It sounds a little well-worn, but if "Timecrimes" proved anything, it's that the director is capable of bringing a fresh take to sci-fi tropes, which should distinguish it from the likes of "War of the Worlds" or "Signs." There's no word on casting yet, but we'll keep our eyes peeled.