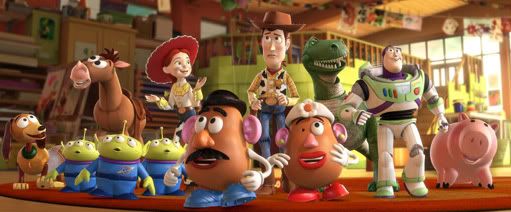 With "Toy Story 3" set to win hearts, dazzle eyes and obliterate the box office this weekend, for those of you worried this will be the last time you'll see the beloved characters on screen, you may not have to wait that long for another adventure.

Director Lee Unkrich revealed on MSN that, "I really tried my best to end the story of Andy and his toys and bring that story to a close in a really nice way at the end of this film. That being said, we know that people love the characters, love Woody and Buzz, and would hate to say good-bye to them completely. I don't know that there would ever be a '[Toy Story] 4.' We don't have any plans for one — but we are trying to find ways to keep the characters alive. We have announced we're going to do a short film in front of 'Cars 2′ that uses the 'Toy Story' characters. We're going to keep them alive; they're not going away forever."

We can't say we're surprised. Earlier this morning we speculated how much pressure Pixar would be under to keep these characters alive, and it looks like they have no hesitation about returning to the ever popular well. And certainly, the prospect of further adventures, even if its just a short, will definitely be added draw for "Cars 2" because really, was anyone asking for a sequel to that film?

"Toy Story 3" is in theaters today, and yeah, you should go see it.