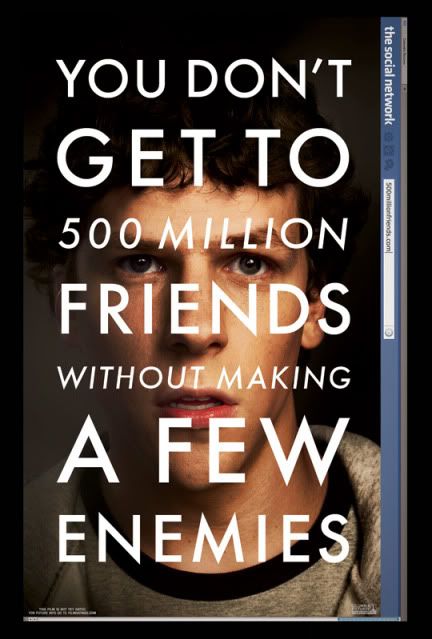 ...let it begin. With the October 1st release date just over three months away (man, is it really almost July?) the marketing campaign for Sony's Oscar hope "The Social Network" has kicked off with a pretty impressive, simple yet effective poster for the film. It's a clever take on the "big head" poster with a slogan that distills the sturm und drang that will unspool in David Fincher's tale about the founding of Facebook.

Yeah, we were initially kind of cold on the film and we never really got through Aaron Sorkin's lengthy script, but Sony is apparently quite happy the results and boasting a cast that includes Jesse Eisenberg (pictured), Rashida Jones, Rooney Mara, Armie Hammer and Max Minghella we would be lying if we said we weren't somewhat excited. It is Fincher after all, and while "The Curious Case Of Benjamin Button" was definitely the director at his most pedestrian, we hope he's back to fighting form here.

Oh yeah, the official website has also launched and aside from the poster, it's pretty empty right now except for a link to the film's Facebook page. Naturally.