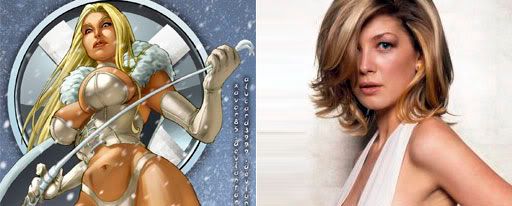 We want to be good nerds and talk about how the X-Men character Emma Frost has a deep and fascinating history, but c'mon. There have been few characters as cheesecake pinup as Frost in mainstream superhero comics, and no matter what they gave Frost to do, it always came down to the fact that she had a ginormous bust and walked around in lingerie. That's comics, people — beefed up male ideals, and chesty, improbable big-lipped vixens.

Looks like we'll finally have a chance to witness that heaving bosom on the big screen, as rumors suggest that Frost has a part in the upcoming "X-Men: First Class" and might be played by the very attractive Rosamund Pike. According to Forces Of Geek website, Pike was spotted at the offices of casting director Lucinda Syson clutching an Emma Frost 'X-Men: Origins' comic. Syson has previously worked with Vaughn on "Kick-Ass" and "Stardust," so you can see how the dots potentially connect, but that's still tenuous intel at best.

Pike, a former Bond girl who's been seen in "Pride And Prejudice" and "An Education," has some huge knee-high kink boots to fill to play Frost, aka the White Queen. The character, a powerful telepath who originally worked with the Brotherhood of Evil Mutants, eventually joined the X-Men as one of the leaders of a group of young mutants, falling in love with field leader Cyclops. Plans were originally set for Frost to feature in the third "X-Men," as "X2" writers Dan Harris and Mike Dougherty had reportedly convinced Sigourney Weaver to come onboard, so clearly her inclusion in the X-films has been on Marvel's mind.

This casting would probably confirm "First Class" as being part of a new chronology, as Frost was last featured in "X-Men Origins: Wolverine" as a teen, played by Tahyna Tozzi. This would be the third straight re-casting from the continuity-heavy "Wolverine," as James McAvoy and Aaron Johnson are set to play that film's Professor X and Cyclops, Patrick Stewart and Tim Pocock (who was the first to Tweet about the potential prequel, and probably was screwed as a result). Why is Fox now dead-set on two separate continuities for this specific franchise? Or is the intention to keep a potential series of "Wolverine" films separate from the schizophrenic "X-Men" franchise?

Having started reading "X-Men: First Class," it appears that the film producers and writers are using the idea/concept of the series as a launching pad of sorts rather than as a straight-up adaptation, as the comics contain little traces of origin stories and absolutely no traces of Xavier and Magneto's nascent days. We've done some digging, and Emma Frost doesn't even appear in the 'First Class' comics so don't expect the films to adhere too closely to the source material which focuses on Angel, Beast, Cyclops, Iceman, Jean Grey and Professor X. Then again, that's us presuming that this report is correct and Frost is actually one of the characters.

Forces Of Geek also reports that one of the other names in talks to play Magneto is one of Pike's former co-stars. We're going to take a super crazy leap and say they are referring to Ryan Gosling, who co-starred in "Fracture" with Pike (again, only if this is true; as /Film reminds, this same site reported Olvia Munn's role in "Iron Man 2" was a set-up for her role as Wasp in "The Avengers," and that turned out to be false). With 'First Class" aiming for a September shoot, he actually does have some room in his calendar. And it would be kind of awesome. But, it's all just rumors and conjecture for now, with more speculation sure to come.