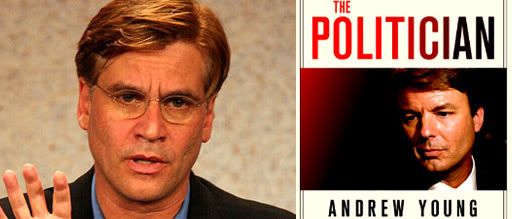 When he started off his career, Aaron Sorkin seemed like a solid, if unremarkable screenwriter, turning out enjoyable middlebrow thrillers like "A Few Good Men" and "Malice," as well as performing heavy rewrite work on the likes of "The Rock" and "Enemy of the State." But then he moved into TV, and it became clear that everyone had been underestimating him. "Sports Night" stands as an excellent comedy drama, but it was with "The West Wing," a show that this writer is hopelessly obsessed with, that Sorkin stepped up to the big leagues. Riffing slightly on his film "The American President," the show followed the senior staff of a fictional Democratic president across more or less his entire eight-year term. For the fourth series that Sorkin wrote for, it took one of the best TV casts ever assembled, and made them soar with writing that, while sometimes on-the-nose, was mostly excellent, and sometimes transcendent.

Since then, Sorkin's returned to features for the most part, with a screenplay for Mike Nichols' "Charlie Wilson's War," as well as two excellent upcoming scripts in the shape of David Fincher's "The Social Network" and Bennett Miller's "Moneyball." And now it looks like he's moving into the directorial arena for the first time, with the confirmation of the previously rumored news that he's optioned Andrew Young's non-fiction work "The Politician: An Insider's Account Of John Edward's Pursuit Of The Presidency and the Scandal That Brought Him Down."

Young was a long-time aide of presidential candidate Edwards, and stood up during the most recent campaign to claim paternity of his boss' lovechild. The book, and presumably the film, focuses on Edwards during that campaign, which ended amidst the scandal. Sorkin has personally optioned the rights to the book, and will write, produce and direct the project, although it doesn't appear to be set up with a studio yet. Sorkin told The Hollywood Reporter "This is a first-hand account of an extraordinary story filled with motivations, decisions and consequences that would have lit Shakespeare up. There's much more to Andrew's book than what has been reported, and I'm grateful that he's trusting me with it."

This seems like a remarkably exciting project, to be honest; Edwards is a great character, the set-up is rife for drama and it's firmly within Sorkin's wheelhouse. The only slight question we have, other than Sorkin's inexperience in direction, is that, without someone else calling the shots, we could end up with something closer to the self-indulgent "Studio 60 On The Sunset Strip" (but we hope not).