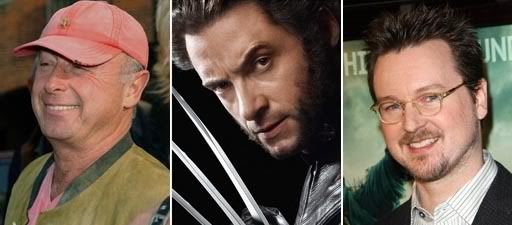 Take it as a rumor for now, but this comes from some very reliable sources who have been good to us and very accurate in the past.

We're hearing that the search for the director for "Wolverine 2" has quietly been underway and a host of Hollywood players have been courted for the gig. Several directors including Kathryn Bigelow, Timur Bekmambetov (who seems to be approached for anything and everything) and Daniel Espinosa (who helmed the buzzed about Swedish flick "Snabba Cash" and was considered for "X-Men: First Class") have talked to the studio about the gig, but apparently Fox has narrowed it down to two choices: Matt Reeves and Tony Scott.

Those are two intriguing and quite different choices. From a budgetary perspective, Matt Reeves would probably be the less expensive choice. He's still a director on the rise, but has shown he can handle action and FX ("Cloverfield"), and given the early looks at "Let Me In" that have surprised even the staunchest of "Let The Right One In" defenders, it appears he knows his way around character and atmosphere too. He's polished and taking the gig would have him commanding his biggest film to date, and would be a big step up for the director.

As for Tony Scott, if the rumors are true, we're a bit surprised. While he's certainly commanded his share of big-budget action films, he's never been around a comic franchise, but hey, there's a first time for everything. While Scott would probably be a bit pricier to bring aboard, there is no doubt he would bring his energetic style (for better or worse) to the franchise, and most importantly, make shit blow up real good.

"Wolverine 2" was tentatively scheduled earlier this year for a January 2011 start, but rumors have been knocking around that the production start will be pushed back. And that would gel with these rumors as Scott is slated to start "Potsdamer Platz" in January, so presumably if he took the gig, "Wolverine 2" would shoot after. But again, things could theoretically come together quickly, and if Fox sticks with a January 2011 start, suddenly Reeves looks like a very strong frontrunner.

We'll close this out by saying that while our sources say it's down to those two directors, who knows how deep the discussions have gone and really, it could just mean that Fox is ready to get offers out to those two. And if they both pass, expect the other directors or new choices to come into play.