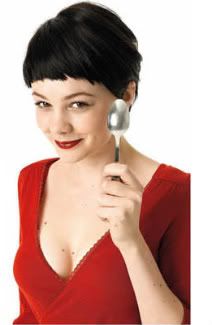 Update: Is this story BS? Mulligan's reps tell Movieline it is, but frankly, we're not sure this is simply obligatory publicist denial as Pajiba's sources are generally spot-on.

Few actresses are in as much demand at the moment as Carey Mulligan. After breaking through at Sundance last year with her astonishing performance in "An Education," the young star has another potential awards contender coming up with "Never Let Me Go," as well as a high-profile role in "Wall Street: Money Never Sleeps," and she's going to be filming "On Chesil Beach" with Sam Mendes in a few months, and has been linked to Wentworth Miller's script "Stoker," alongside Jodie Foster. So what's the next step for one of the brightest stars around right now? Possibly, its making a low-rent horror movie with Screen Gems, the makers of genre classics like "The Stepfather" and "Prom Night."

According to Pajiba, Mulligan is close to signing on to "Cradle Will Fall" for the studio. With a spec script by Jack Olsen, the film is about a surrogate mother who turns out to be somewhat unstable, and decides to keep the baby -- and the husband -- for herself. Both in title and setup, there seems to be a nod to "The Hand That Rocks The Cradle," and unless the script is truly extraordinary (and apparently Mulligan's involvement is contingent on a rewrite, so we imagine it isn't), a film of that caliber seems to be the best case scenario.

Screen Gems seem to be setting their sights high with this one as Kate Winslet and Cate Blanchett are being mentioned for the role of the mother, and Adrien Brody for the father (not that that's exactly a guarantee of quality these days...). But having said that, the directors being sought, including Gary Fleder ("Runaway Jury," "The Express") and Mark Pellington ("Henry Poole Is Here," "The Mothman Prophecies") seem more appropriately C-list, and the back-up list of actors, including Billy Zane and Peter Facinelli, are even cheaper.

But it all begs the question, what on earth is Mulligan doing here? She must be being offered virtually every script in town, and the Screen Gems movies are pretty cheap, so it's not even as if there's a hefty payday in store. It's possible that Mulligan's just an unrealistic name at the top of the wish-list, like Winslet and Blanchett, but the tone of Pajiba's report suggests that the interest is mutual. Which makes us sad.