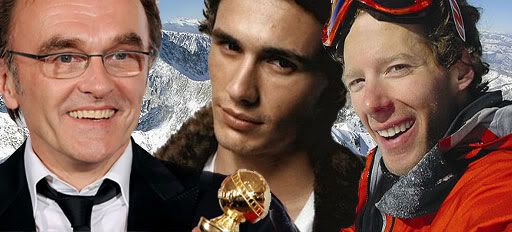 Fox Searchlight are going to be a force to reckon with this Oscar season. Already announcing earlier today that Darren Aronofsky's "Black Swan" will hit theaters on December 1st, the studio has announced that Danny Boyle's ambitious and highly anticipated based-on-true-story mountain climbing tale "127 Hours" has been slotted for a November 5th release.

Following the Oscar domination by "Slumdog Millionaire," Boyle's followup is a no-brainer as a strong horse in the awards season race. The film has been curiously absent from initial lineups at both the Venice and Toronto International Film Festivals, but there is still time left for it to find entry. That said, the film has test screened in recent weeks and our guess is that whether or not it unspools on the festival circuit will depend on how much work Boyle has left to get the film in the can.

The film is based on the true story of mountain climber Aron's Ralston's extraordinary survival tale after he found himself trapped under a boulder and faced with the decision to amputate his own arm. James Franco stars in the lead role with a cast that includes Amber Tamblyn, Lizzy Caplan, Kate Mara and Clémence Poésy. Rather ambitiously, the film also features work from two cinematographers in Anthony Dod Mantle and Enrique Chediak and will predominantly follow Ralston through first-person POV dialogue, a narrative tool that should provide for a harrowing, claustrophobic cinematic experience.

You can read the official plot synopsis after the jump.

127 HOURS is the true story of mountain climber Aron Ralston's (James Franco) remarkable adventure to save himself after a fallen boulder crashes on his arm and traps him in an isolated canyon in Utah. Over the next five days Ralston examines his life and survives the elements to finally discover he has the courage and the wherewithal to extricate himself by any means necessary, scale a 65 foot wall and hike over eight miles before he is finally rescued. Throughout his journey, Ralston recalls friends, lovers (Clemence Poesy), family, and the two hikers (Amber Tamblyn and Kate Mara) he met before his accident. Will they be the last two people he ever had the chance to meet? A visceral, thrilling story that will take an audience on a never before experienced journey and prove what we can do when we choose life.