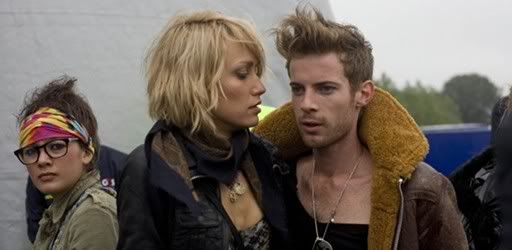 While other attendees at this past weekend's T In The Park Festival were there to witness Kasabian headlining over Jay-Z (really?) director David Mackenzie ("Hallam Foe," "The Young Adam") made a movie.

The untitled rom-com starring Luke Treadaway ("Clash Of The Titans") has been a quick and dirty affair, with shooting completed in a mere five days. In the film Treadaway plays "the lead singer of an indie Scottish band who finds himself handcuffed to the vocalist of a big US rock outfit....At one point, they have to perform in each other's sets live on stage. Of course they get together in the end." Sounds kind of cornball, but it also could be kind of cute. The Reverend Al Green is the one who handcuffs them together for reasons we presume will be explained in the film. "Harry Potter" actress Natalia Tena plays the other object of affection in the film, lead singer of band The Dirty Pinks.

Bleeding Cool did some digging and found some production stills from the film (more of which you see here) as well as video of Treadaway's fake band The Make performing at the fest.

This isn't the only film on Mackenzie's plate. He's currently editing the end-of-days love story "Perfect Sense" (formerly known as "Last Word") starring Ewan McGregor and Eva Green. Will it be done in time for the fall festival circuit? We hope so.