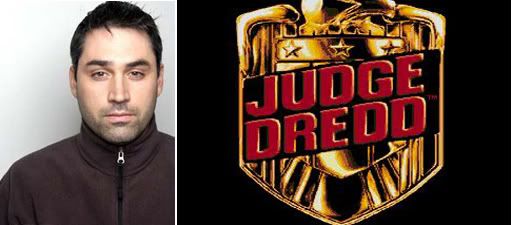 Back in May, the gestating "Judge Dredd" reboot landed a director in the shape of Paul Greengrass protege Pete Travis. Best known for helming the ludicrous thriller "Vantage Point" (he also directed the excellent docudramas "Omagh" and "Endgame") our main interest in the film still comes courtesy of regular Danny Boyle collaborator Alex Garland who was tapped to write the screenplay.


We received a detailed reader report on the script and here's what you might expect from the forthcoming film.

Firstly, the script -- for better or worse -- earned some comparisons to a couple of fairly big, benchmark action and sci-fi films:
Imagine DIE HARD taking place within the world of BLADE RUNNER; that's the JUDGE DREDD script offered by Alex Garland. Clocking in at 110 pages, this is not the most complex or plot heavy story. What is offered is a high-octaine, action filled screenplay, that is both hardcore and gritty.
But if the film earns parallels to some big films, the plot sounds fairly generic and video-game level simplistic. It basically sounds like a vertical, amped up version of "16 Blocks":

MEGA CITY ONE is plagued by a new drug, SLO-MO, it slow's everything down and producers visually stunning images, with time that moves at one percent normal.
Dredd has a rookie shadowing him for the night (CASSANDRA ANDERSON), she has some special abilities that the CHIEF JUDGE thinks could be very useful, however her JUDGE APTITUDE test scored just put her below a pass. It's up to DREDD to see if she has what it takes to be a Judge and one night to do so.




The pair investigate a multiple homicide in PEACH TREE BLOCK. A place ran and controlled by the MA-MA CLANG. After busting one of Ma-Ma's henchmen, Ma-Ma takes control and locks the entire place down, she seals the place with concrete shutters -- and no way out. Ma-Ma also tell's everyone within the block to KILL THE JUDGES, or their families will suffer. Ma-Ma is the ultimate force in Peach Trees, more than the law, so everyone complies. Dredd and Anderson have to survive, holding onto their prisoner and try and escape the block. They begin on the ground floor and work their way up the 200 or so floors.
Our reader report summarizes the script in terms that point to the film being accessible to those who don't know much about the comic franchise, while still keeping a few clever nods in for the small handful of diehards who will be expecting them:

It's a very action heavy script, with some amazing sequences that will make any Dredd fan happy...this is a gritty film, that plays the world we are in as a realistic future, a very dark, unpleasant crime ridden world as Dredd explains 'Tweleve serious crimes reported every minute. Seventeen thousand per day. We respond to around six percent'. The famous 'I am the law' makes a few appearances.
Even if we're not quite sold on the plot just yet, we are heartened that the film appears to be light on its feet, with the potential to be quite the spectacle:

It never felt too long or too short, It's just right. The pace is fantastic and if shot well would make for one visually stunning piece upon release.





There is a very cool sequence told from a junkies POV high on SLO-MO, the cool visuals of melting images, vibrant colours and [a] slow raid by Dredd and Anderson will be [something] very cool to see.
The movie has a $50 million budget but there's still no word yet on casting or a production start date. We can't say we're too thrilled by this early report on the film, but it should be noted, a lot can change depending on who comes aboard for the lead and if the script goes out for re-writes or punch-ups. So just take it this as an early indication of the direction the reboot is headed in.