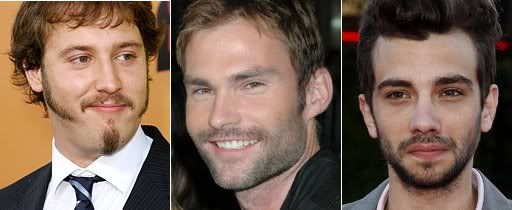 On Friday in San Diego during Comic-Con 2010, Jay Baruchel hinted to MTV that a "bona fide American movie star" would appear in his upcoming hockey comedy, "Goon."

It might have been a super big secret, but apparently writer/producer Evan Goldberg ("Superbad," "Pineapple Express") didn't get the memo and let the cat out of the bag to the Playlist later that day.

"We're hoping that Seann William Scott will be in the movie," Goldberg said. Someone ought to let Kevin Smith know as he's already said Scott will star in his competing hockey comedy, "Hit Somebody." Impending roughhousing call coming shortly enough, we're sure.

Meanwhile, Goldberg also announced the new director, Michael Dowse, the filmmaker behind the techno DJ satire, "It's All Gone Pete Tong," and the Canadian hoser/hesher cult classic, "FUBAR." "I was talking to Michael Dowse yesterday," Goldberg said enthusiastically. " 'Fubar' to me is legendary. I think it's unbelievable."

While Goldberg didn't set a date, he suggested the film is moving full steam ahead and will be made in the Great White North shortly. "I was co-writing with Jay Baruchel. And because of how busy I am, I can't be heavily involved," he said. "But they're making it and I couldn't be more excited. They're going to do it up in Canada, and I'm stoked because I've never written a script and had someone else make it, especially someone like Michael Dowse."

"Fubar 2: The Wrath Of Tron" is expected for release sometime in 2010. Presumably when that's complete and released, Dowse -- who's actually an old Playlist acquaintance from way, way back -- will probably lace his skates to take on "Goon," which Baruchel once described as a funnier "Raging Bull" only set in the world of ice hockey. If they do lock Scott, maybe there'll be fewer issues since one is a Canadian production and one is an American film? One can only hope. The trailer for "Fubar" is below, but it's a very low-budget 2002 mockumentary, so perhaps checking out the trailer for 'Pete Tong' might be more indicative of the skills and quality "Goon" will possess. - Reporting by Drew Morton.