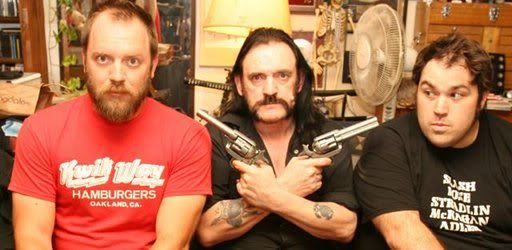 Let's face it. While a lot of classic rock still, well, rocks, the guys who once wrote the music, lived a life of gleeful debauchery and changed music history are mostly millionaires, living quiet respectable lives only to come out of hiding every now and then to earn a few more million dollars by playing a concert or releasing a half-baked album. That's right Paul McCartney, The Rolling Stones, Eric Clapton, Jeff Beck, Eric Burdon and all your buddies, we're looking at you. And then, there's Lemmy. The one true rock 'n roll renegade still standing and still grinding it on tour and pumping out ear-splitting albums, Lemmy is the real deal and he finally has the documentary to prove it.

"Lemmy," a labor of love by first time feature filmmakers Greg Olliver (a music video helmer) and Wes Orshoski (a photojournalist and former rock critic), is a surprisingly tender and warmhearted look at the rock legend that doesn't follow traditional biopic guidelines. Instead of tracking down his family, his past relationships and (at its worst) failing to ask any really tough questions, the film is a slice-of-life look at Lemmy as he is today. The Motorhead frontman gives the directors pretty much full access to his life and what emerges is a side to the man that will be surprising to those who only know him as the badass-looking dude who can still snarl out "Ace Of Spades" and cut you down with a stare. Intercut with the personal, one-on-one bits, are numerous interviews with a who's who of rock royalty including Dave Grohl, Ozzy Osbourne, Mick Jones, Henry Rollins, Duff McKagan, Slash, Nikki Sixx and a ton of others we're forgetting, who all share their experiences and thoughts about Lemmy and his influence (though Scott Ian of Anthrax wins hands down for best anecdotes).


So yes, it's a bit of a kid glove approach which would only be a problem if Lemmy himself wasn't so surprising and fascinating. The first immediate revelation are Lemmy's living quarters. Currently residing in Los Angeles, he doesn't have a fancy home in the hills, or even a nice condo in a good neighborhood. Nope. The elder statesman of punk lives near to the legendary Rainbow Bar in a cheap apartment that is so small that all of his WWII memorabilia, music ephemera and assorted junk practically fills the place from floor to ceiling; you might think you were watching an episode of "Hoarders." The reason he lives there is simple: the rent is cheap and his main geographic point of reference in the city is the Rainbow. It's a bit jarring and weirdly heartening to see a bonafide rock star living in same sort of dumpy apartment many of his fans probably find themselves living in.

The film also spends a good amount of time on his love for the true pioneers of rock 'n roll, Little Richard (who Lemmy believes is the greatest rock vocalist ever), Jerry Lee Lewis and Elvis Presley. As he recounts, he remembers the time before there was rock 'n roll; when all you had was your mother's record collection to listen to. He regards himself not as a punk rocker or a metal forefather, but instead, as the direct descendant of artists whose records he grew up listening to. In fact his love for music of that period is so great, he recently started another group, The Head Cat, a pure rockabilly project that plays the songs from that era straight up. In a great clip, we watch the group perform Johnny Cash's "Cry Cry Cry" with pure reverence; no tongue in check artifice or volume-jacked interpretation. Instead a really straightforward crack at the song and it's great.


This sort of thing is the tenor for the entire film. And while it's definitely a lot of fun to hang out with Lemmy for the length of a feature film, you do end up wishing for a bit more depth. The filmmakers briefly touch upon some of the interesting or controversial aspects of his career and life but never in any real way. For example, Lemmy's penchant for collecting and wearing WWII garb (his apartment is festooned with swastikas) is addressed by the filmmaker's asking him directly if he's a Nazi. Of course, he's not a Nazi, but obviously there are some clear issues in his hobby that they don't talk to Lemmy about. The film only gently explores his personal life, interviewing his son (at the least the one he talks to, not the one put for adoption) but none of the women in his life - it's a bit disconcerting to hear Lemmy sort of slag off the mother of his child and not get her version of events. At least the filmmakers get to reach out to the members of Hawkwind, who fired Lemmy from their group, to get their side of what it was like to work with him back in the day.

The other minor problem with the film is that it's simply too long and a bit of a structural mess. Greg Olliver and Wes Orshoski unfortunately aren't able to hide their rookie filmmaker status as the film jumps all over the place with no rhyme or reason (e.g. the brief bit we get about Lemmy's childhood randomly comes near the end of the film). And while the wide range of interview subjects they get are great, not all of them are really needed; Sebastian Bach's thoughts on Lemmy are superfluous at best. And the film pretty much comes to stop during a full-length, turgid, live concert clip of Metallica playing "Damage Case" (complete with two guitar solos) with Lemmy guesting on bass and vocals. It's not a particularly great rendition and the Fantasia audience (who are very vocal and who gave Lars Ulrich a hearty boo) were bored into restless silence.


While "Lemmy" is far from the definitive biopic on the man, what it does deliver is a feeling of what it's like to be in his shoes day in/day out. Lemmy has always been the coolest, baddest motherfucker of them all, but here we gain a new respect for the man who continues to live as he always has, without compromise, for better or worse. To quote a joke from "Airheads":

"Who'd win in a wrestling match, Lemmy or God?"
"Lemmy.....no, God."
"Wrong, dickhead, trick question. Lemmy is God."

And "Lemmy" makes a one helluva argument for that statement. [B]

While distribution hasn't yet been announced, at the screening, the filmmakers confirmed a deal was pending and "Lemmy" will likely see a release by the end of the year.