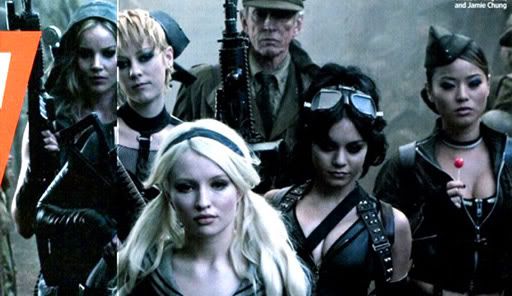 We finally have our first look at Zack Snyder's ambitious, period-based alternate reality action film "Sucker Punch" that also apparently has some song and and dance numbers.

The first image gives us the the quintet of Emily Browning, Vanessa Hudgens, Jamie Chung, Jena Malone and Abbie Cornish looking particularly like they are ready to kick ass (or going to one helluva S+M party). In short, geeks everywhere have some new fap material (ew, gross, we know). Obviously, this is from the fantasy world section of the film which takes place in a stylized WWI setting. The cast is rounded out by Carla Gugino, Jon Hamm, Scott Glenn (pictured in the back) and Oscar Isaac As a refresher, here's the synopsis:

"Sucker Punch" is set in the 1960s, when a teenage girl (

Emily Browning

) is sent to an asylum by her nasty stepfather (

Jon Hamm

).

Once inside, the girl bonds with several other teen patients

(Vanessa Hudgens, Abbie Cornish,

Jamie Chung

and Malone), and she retreats into a multi-level fantasy world where she and her friends are, by turns, the star attractions in a Moulin Rouge-esque night club brothel, and sexy warriors battling robotic Germans in a stylized version of the First World War. They also fight dragons and knights in a medieval world, kick alien butt on a futuristic planet, and battle giant samurai in an ancient temple.
The film is currently slated for a
March 25, 2011 release and may or may not arrive in converted 3D. Snyder is cool on the idea while his wife and producer Deborah Snyder has argued,
"Visually, Zack's done an amazing job. It's such a spectacle in and of itself and it's so fantastical that it doesn't really need the 3-D." And we can kind of see what she means.