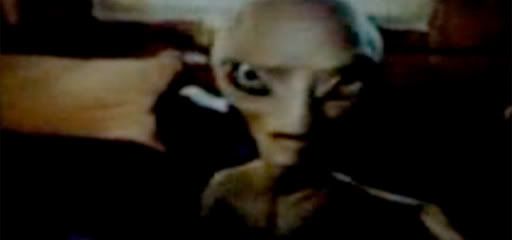 This dark, blurry image is reported to be our first look at the titular Seth Rogen voice and mo-capped alien in Greg Mottola's sci-fi road trip comedy "Paul" though there's seems to be no discerning evidence suggesting it's validity or word of a source for the image from BleedingCool.

That said, we wouldn't be adverse to what we're looking at if it, in fact, is the real thing. Comparisons to the alien character in the Seth MacFarlane's "American Dad" are pretty close but we're sure in motion and with Rogen personality behind it, it'll be a totally different beast.

"Paul" follows the story of two nerds, played by Edgar Wright regulars Simon Pegg and Nick Frost, who stumble upon the titular alien on their sci-fi pilgrimage across the United States and begin a road trip described by Pegg as "the craziest adventure they could possibly imagine. It's like their dream come true. "

With a stellar supporting cast including the likes of Kristen Wiig, Jason Bateman, Bill Hader, Sigourney Weaver, Blythe Danner, Jane Lynch, Jeffrey Tambor, Joe Lo Truglio and David Koechner, the film will hit theaters on March 18, 2011.
Update: about 5,000 people have emailed or Twittered or commented to say, "Hey, I was at Comic-Con, this is real." Cool!