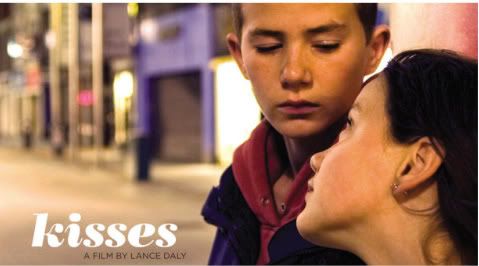 It's rare that we get a small, kid-driven movie in the theaters that's not a movie for kids. Off the dome, there was the unseen and under-appreciated Mexican film by Fernando Eimbcke, "Duck Season," and the London-set Shane Meadows social environment study "Somers Town." Both are incredibly delightful small films, ones that forego deep plot and focus on their characters. They're incredibly refreshing; a nice alternative to regular art-house non-narrative fare and bull-shit (or even well done) Hollywood bullshit. Lance Daly takes over the mantle this year, serving up his own take on the genre. "Kisses" follows the trend set by Eimbcke and Meadows, but isn't as involving.

The film wastes no time in proving that the two main characters would be better off elsewhere. It's Christmas Day, and Dylan's (Shane Curry) stepfather screams, yells and fights his wife. Dylan's brother ran away two years prior, and even the bullies don't think he's worth bothering with - they stop on their bikes, curse him off, and ride away, presumably having bigger fish to fry. Kylie (Kelly O'Neill), Dylan's neighbor and only friend, is relegated to walking her baby sibling, taking abrasiveness from her peers (who teasingly ask if her and Dylan have had sex yet), and fighting with her teenage sister. It's not so bad for her (at least until we learn more about her relationship with her uncle), but it's still pretty dour and Kylie is just as eager as Dylan to get the hell out of there. Once Dylan injures his stepdad in defense of his mother, the couple high-tail it in search of something better. They hop on a small boat and head to Dublin.

From here on out, the film plays in vignettes often centering on characters that the children meet. Most of the encounters are amusing and playful, and very seldom do they take themselves too seriously. However, the problem is that none of these encounters are interesting enough. The chemistry between the two leads is good, and it's hard to get past their cute faces when they're running their potty mouths. The situations they find themselves in are never as strong as they could be (or should be, especially when they are in danger), thus giving a feeling of artificiality and calculation.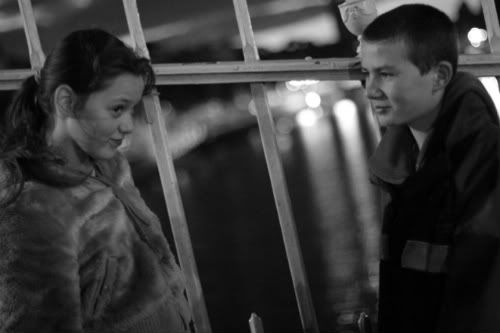 That said, everything about the movie is played so innocently that it's hard to berate it for its mistakes or weaknesses. It's not wildly successful in any of its moments, but to dwell on this just feels bullyish for the film doesn't beat you over the head with anything and never goes too over the top. Even at its most obvious (for example, a young woman explaining how you either give or take a kiss, or the film starting in black and white and gradually going to color as the film progresses), it is still very much harmless and held back from being overly meaningful. The filmmaker misses a few great opportunities because of this, but also avoids certain calamities. For instance, the set up of the children's home life could've been completely excessive, playing something like the annoyingly brutal "Precious." Maybe the director's resistance (or amateurness) misses obvious points, but at least he's smart enough to know that an audience doesn't have to be eye-raped to know the kids have a poor life at home.

Despite its flaws, "Kisses" is a fun watch. In addition to its breezy running time (just a touch over 70 minutes), it successfully immerses you in night-time Dublin, which is beautifully captured and makes the viewer feel that they are there with the characters. Unfortunately, the audience is far removed from the situations, and too often do we feel like a passer-by that could care less about these children. Not loose enough to feel as free and open as the best of its bunch (and really, the one film about kids running away should feel the most free), but not at all bad, boring, or offensive; you could do a lot worse at choosing a film. Daley proves that he has some talent, but he's calculated and restrained when he shouldn't be. "Kisses" isn't bad, but it won't leave an impression. [C]