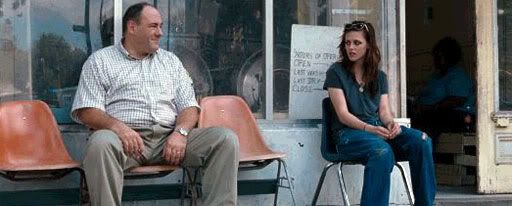 The trailer has arrived for the 2010 Sundance film "Welcome To The Rileys." Directed by Jake Scott (Ridley Scott's son), the picture centers on a damaged man (James Gandolfini), estranged from his wife (Melissa Leo) who seeks salvation a business trip to New Orleans by caring for a young teenage stripper (Kristen Stewart in a movie probably not meant for entitled "Twilight" fans).

We honestly don't remember what the reviews were like out of Sundance this year, but we don't recall anything blisteringly negative and that's good, because the trailer looks quite good and something we'd definitely like to see. Here's the official synopsis:

Trauma transforms us. Years after their teenage daughter's death, Lois and Doug Riley, an upstanding Indiana couple, are frozen by estranging grief. She isolates herself in their immaculate suburban home. He philanders with a local waitress, anesthetizing pain with easy passion. When he loses his mistress to cancer, Doug, beset by further heartache, escapes to New Orleans on a business trip. Compelled by urgencies he doesn't understand, he insinuates himself into the life of an underage hooker, becoming her platonic guardian. Meanwhile, Lois summons all of her remaining force to overcome agoraphobia and venture south to reclaim her marriage.

Exacting performances from three consummate actors (James Gandolfini, Melissa Leo, and Kristen Stewart) infuse this emotionally raw, gently humorous drama with penetrating humanity. Director Jake Scott's uncompromising film refuses to flinch from difficult moments or tie neat bows around its characters. Instead, it reveals how taking risks and leaving our comfort zone can become a profound path to healing the human heart.
Apparition had the film set for a November 5 release date before they sold it off to Samuel Goldwyn Films, who know owns the picture, so hopefully that date will skip and we won't have to wait months to see it. This new trailer suggests there won't be a delay. Wonder what the "Twilight" fans will think of this one, we're sure no matter her facade Stewart is dying for that series to end.