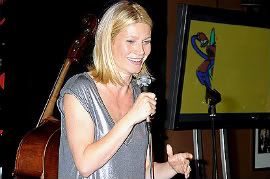 Hell, it worked for Jeff Bridges in "Crazy Heart" so the folks over at Screen Gems are pretty much making a carbon copy of Fox Searchlight's movie with a gender switch for their forthcoming Oscar season bait "Country Strong" starring Gwyneth Paltrow.

The film, previously known under the much better title "Love Don't Let Me Down," follows a rising singer-songwriter (Garrett Hedlund) who starts touring with a fading country singer (Gwyneth Paltrow). Tim McGraw ("The Blind Side") and Leighton Meester ("Gossip Girl") will also feature. Well, the title song from the film has leaked and while Paltrow's singing chops aren't bad, the "new country" song is fairly bland and certainly nowhere near as memorable or authentic as the grittier, rootsier "Crazy Heart" soundtrack (to which it will inevitably be compared). But this isn't the only country music drama on the way. Olivier Dahan has "My Own Love Song" with Renee Zellweger completed and already released in France. It is still without a U.S. distributor though we figure that won't last for long.

"Country Strong," written and directed by Shana Feste ("The Greatest") will hit theaters on December 22nd. [ONTD]


Gwyneth Paltrow "Country Strong"