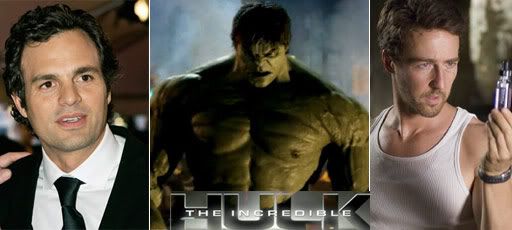 Holy shit, we didn't see this one coming.

While rumors have flown around that Joaquin Phoenix, Adrien Brody, Nathan Fillion and David Tennant have been eyeing the role of The Hulk in Joss Whedon's forthcoming "The Avengers" this is a name we never thought we'd utter see in contention for the role: Mark Ruffalo.

Deadline reports that the actors is in "late-stage discussions" with Marvel to take on the role. This would be a major game changer for Ruffalo as the actor has carved out a successful, acclaimed career starring in independent or independent-minded films. While most of the geek set will known him from his role in David Fincher's "Zodiac," he came to the attention of Hollywood with his fantastic turn in "You Can Count On Me" and is currently earning accolades for his role in "The Kids Are All Right." If the deal gets done, Ruffalo would replace Edward Norton who was unceremoniously dumped from the role.

We have to say, the choice is definitely inspired. Ruffalo has the chops to match Norton, but will also be considerably cheaper for the budget-conscious Marvel and not weighed with the baggage Norton has as being supposedly difficult on set.

This news seems to jive with rumors that Marvel will unveil their new Bruce Banner at ComicCon though at the rate cast confirmations seems to be flying around high profile comic movies, we wouldn't be surprised if the news is solidified in advance. Update: THR says Deadline's report is exaggerated. An offer has been made to Ruffalo, but the actor's not sure he wants the part. He's meeting with director Joss Whedon first and apparently he's juggling several offers since his winning turn in "The Kids Are All Right" (what the hell, Hollywood, did you not see "You Can Count On Me" and the rest of his body of work?).

This seems to make more sense to us. Ruffalo doesn't really strike us as an actor very interested in this kind of blockbuster role, and remember, he'd have to appear in further "Hulk" films if he signed on, not just "The Avengers" and he may not want to be locked into three-four picture deals. Then there's the fact that Marvel might low-ball him for that deal, which could turn him off further. We'll wait and see what happens. He is a great choice, but it remains to be seen whether he'll take the role...