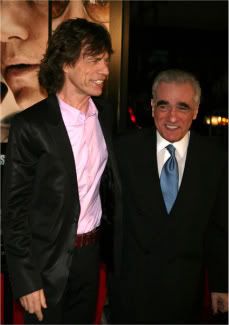 That sound yesterday following the presentation of yesterday of "Tron: Legacy" footage at Comic Con? We just made the exact same noise. We're already more excited about "Boardwalk Empire," the new HBO series from Martin Scorsese and "The Sopranos" veteran Terence Winter, then we are about most movies this year, and now Deadline are reporting that the two are teaming up with Mick Jagger for another HBO series, one that sounds like it'll be right in our wheelhouse.

The project, being referred to as "History Of Music" (which we imagine is a working title), began as an idea of Jagger's, before being developed as a feature at Paramount called 'The Long Play', with a script by William Monahan ("The Departed"), and Scorsese set to direct. It followed two friends who work in the music industry across 40 years, and it seems that the plot is still intact for the longer-form version, which Winter will write, and Jagger and Scorsese will executive produce, with the latter having an option to direct the pilot if it happens.

For a filmmaker for whom music has always been so key, we're ludicrously excited that he's circling this. In fact, the idea seems a much better fit for several seasons of TV than to a single feature, considering the scope of the project, which is expected to stretch from early Motown to contemporary hip-hop, and, although we're big fans of Monahan, who's no longer involved, Winter's also a fine writer (although we are admittedly brushing his previous music-related project, 50 Cent-starrer "Get Rich Or Die Trying," under the carpet somewhat). It still seems like early stages for the show, particularly with "Boardwalk Empire" yet to premiere (September 19th, kids, mark it down), but we'd happily watch twelve seasons of this thing.