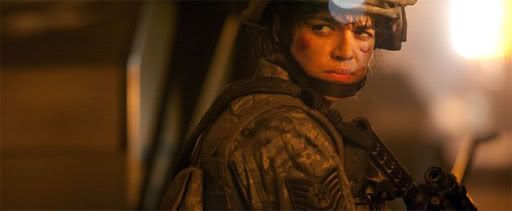 My, my, someone was rather candid today. Our man in the field at Comic-Con Drew Morton sat down this afternoon with Michelle Rodriguez, the star of the upcoming sci-fi action picture, "Battle: Los Angeles," and while she talked about the picture and her role in the film, she kind of went off when we asked her about potentially being typecast as someone who only plays tough girl roles.

Her answer, to be honest, was kind of shockingly frank. But first, what's the film actually about, since we haven't covered it extensively on our site. "It's taken from a military perspective of a city invasion in Los Angeles and what the protocol would be, and how a platoon would start their journey of survival with such a worldwide invasion," she said.

It's also based on a real life event. "It was this 1942 occasion where there was these lights shining off the pacific ocean that captured the attention of the public," she explained. "They told the local authorities and it went up to the military who told the higher ups, Roosevelt was in power and then all of a sudden like 30-40 cannons shot off into the night sky and then an unidentified light -- a ufo -- disappeared and nobody ever talked about it again."

Rodriguez said her character is an Air Force tech sergeant that normally tracks modulating enemy frequencies, but gets the surprise of her life when she has make it out in the field. "In this process of being attacked, ambushed in a platoon, and then being left with no technology, [my character's] job disappears and so she has to rely on brute force, and then she meet these marines and this is what the grunts do, they're the ultimate survivors."

Having played a tough, helicopter pilot in "Avatar," we wondered if she was worried about being typecast. The answer is a colorful, politically incorrect, hell no that might even offend some actors out there.

"Oh baby, I was typecast the minute I did a film called, 'Girlfight' years ago. That has nothing to do with anything, it just to do with... you allow yourself to be typecast. If I decided I didn't want to be typecast tomorrow I'd just go do an indie film where I play some poor girl who goes through some excruciating experience and win myself an award for crying or being raped [breaks into laughter] or playing someone with mental illness. But at the end of the day I'm not in it for the acting. If I were in it for the acting then I would be worried about people not giving me the opportunity to express my vast array of emotions on the screen.

I could give two shits. I only wanna be someone or I respect or someone that I consider interesting or fun. I'm here to entertain people and make a statement about female empowerment and strength and that's what I've done for the last 10 years, and people can call it typecast, but I pigeonholed myself and I put myself in that box for saying no to everything else that came on my plate. Saying no to the girlfriend, saying no to the girl that gets captured, no to this, no to that. and eventually I just got left with the strong chick that's always being killed and there's nothing wrong with that."
Ok, we're not going to argue with that. And we tried to ask more, but she was whisked away to finish her food. Maybe it was a lack of glucose? "Battle: Los Angeles" hits theaters March 11, 2011. -- Interview by Drew Morton